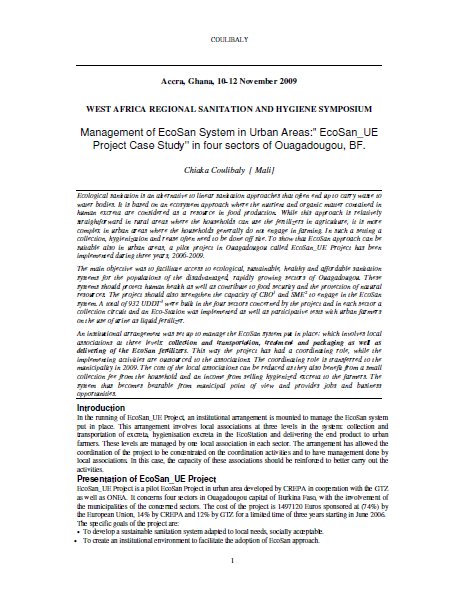 Published in: 2009
Author:
Coulibali, C.
Uploaded by:
SuSanA secretariat
Partner profile:
common upload
---
3668 Views
43 Downloads
---
Location of library entry
Content - Summary
Ecological sanitation is an alternative to linear sanitation approaches that often end up to carry waste to water bodies. It is based on an ecosystem approach where the nutrient and organic matter contained in human excreta are considered as a resource in food production. While this approach is relatively straightforward in rural areas where the households can use the fertilisers in agriculture, it is more complex in urban areas where the households generally do not engage in farming. In such a setting a collection, hygienization and reuse often need to be done off site. To show that EcoSan approach can be suitable also in urban areas, a pilot project in Ouagadougou called EcoSan_UE Project has been implemented during three years, 2006-2009.

The main objective was to facilitate access to ecological, sustainable, healthy and affordable sanitation systems for the populations of the disadvantaged, rapidly growing sectors of Ouagadougou. These systems should protect human health as well as contribute to food security and the protection of natural resources. The project should also strengthen the capacity of CBO1 and SME2 to engage in the EcoSan system. A total of 932 UDDT3 were built in the four sectors concerned by the project and in each sector a collection circuit and an Eco-Station was implemented as well as participative tests with urban farmers on the use of urine as liquid fertiliser.
Bibliographic information
Coulibali, C. (2009). Management of ecosan system in urban areas - Ecosan UE project case study in four sectors of Ouagadougou, Burkina Faso.
Filter tags
Case studies in other formats English Peri-urban Sub-Saharan Africa Urban (entire city) Urine Urine diversion dehydration toilets (UDDTs)
Download