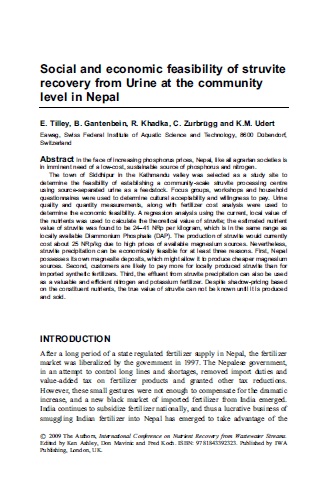 Published in: 2009
Publisher:
IWA - Conference on Nutrient Recovery from Wastewater Streams
Author:
Tilley, E., Gantenbein, B., Khadka, R., Zurbrügg, C., Udert, K.
Uploaded by:
SuSanA secretariat
Partner profile:
common upload
---
3754 Views
80 Downloads
---
Location of library entry
Content - Summary
The town of Siddhipur in the Kathmandu valley was selected as a study site to determine the feasibility of establishing a community-scale struvite processing centre using source-separated urine as a feedstock. Focus groups, workshops and household questionnaires were used to determine cultural acceptability and willingness to pay. Urine quality and quantity measurements, along with fertiliser cost analysis were used to determine the economic feasibility. A regression analysis using the current, local value of the nutrients was used to calculate the theoretical value of struvite; the estimated nutrient value of struvite was found to be 24–41 NRp per kilogram, which is in the same range as locally available Diammonium Phosphate (DAP). The production of struvite would currently cost about 25 NRp/kg due to high prices of available magnesium sources. Nevertheless, struvite precipitation can be economically feasible for at least three reasons. First, Nepal possesses its own magnesite deposits, which might allow it to produce cheaper magnesium sources. Second, customers are likely to pay more for locally produced struvite than for imported synthetic fertilisers. Third, the effluent from struvite precipitation can also be used as a valuable and efficient nitrogen and potassium fertilizer. Despite shadow-pricing based on the constituent nutrients, the true value of struvite can not be known until it is produced and sold.
Bibliographic information
Tilley, E., Gantenbein, B., Khadka, R., Zurbrügg, C., Udert, K. (2009). Social and economic feasibility of struvite recovery from urine at the community level in Nepal. IWA - Conference on Nutrient Recovery from Wastewater Streams
Filter tags
Asia & Pacific English Rural Urine Urine diversion dehydration toilets (UDDTs)
Download