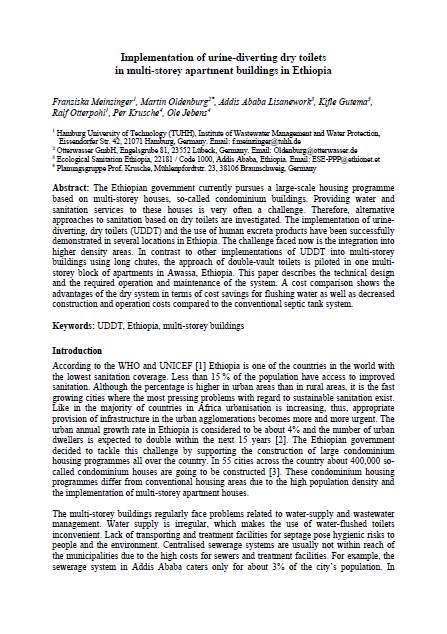 Published in: 2009
Publisher:
Global Dry Toilet Association of Finland
Author:
Meinzinger, F., Oldenburg, M., Lisanework, A., Gutema, K., Otterpohl, R., Krusche, P., Jebens, O.
Uploaded by:
SuSanA secretariat
Partner profile:
common upload
---
3985 Views
75 Downloads
---
Location of library entry
Content - Summary
The Ethiopian government currently pursues a large-scale housing programme based on multi-storey houses, so-called condominium buildings. Providing water and sanitation services to these houses is very often a challenge. Therefore, alternative approaches to sanitation based on dry toilets are investigated. The implementation of urinediverting, dry toilets (UDDT) and the use of human excreta products have been successfully demonstrated in several locations in Ethiopia. The challenge faced now is the integration into higher density areas. In contrast to other implementations of UDDT into multi-storey buildings using long chutes, the approach of double-vault toilets is piloted in one multistorey block of apartments in Awassa, Ethiopia. This paper describes the technical design and the required operation and maintenance of the system. A cost comparison shows the advantages of the dry system in terms of cost savings for flushing water as well as decreased construction and operation costs compared to the conventional septic tank system.
Bibliographic information
Meinzinger, F., Oldenburg, M., Lisanework, A., Gutema, K., Otterpohl, R., Krusche, P., Jebens, O. (2009). Implementation of urine-diverting dry toilets in multi-storey apartment buildings in Ethiopia. Global Dry Toilet Association of Finland
Filter tags
English Sub-Saharan Africa Urban (entire city) Urine diversion dehydration toilets (UDDTs)
Download