Purpose
This ground-breaking 5-year initiative transformed the health of 1.2 million people in over 1,200 communities in Cross River and Benue states. The Programme was implemented in partnership with the federal, state & local governments, and civil society.
Activities
The aim of the programme was to significantly increase sanitation coverage and attain a positive and
sustained hygiene behavioural change in six Local Government Areas (LGAs), three in each of the two
participating states (Cross River and Benue). These six LGAs were funded directly through the WSSCC's /
Global Sanitation Fund (GSF). In addition, the Government committed to i) at the federal level,
provide matching funds for construction of public and institutional sanitation facilities in the targeted
LGAs, and ii) at the state and LGA level match the funds to cover an additional three LGAs in each state.

It was achieved through 5 core lines of activities:
1. Roll out of demand-led cum supply responsive approaches such as CLTS and sanitation Marketing to
achieve full sanitation coverage in all targeted areas;
2. Targeted hygiene awareness interventions aiming at changed and sustained hygiene behavior at
household level;
3. Increased institutional capacity and deepened understanding of sanitation and hygiene issues in
general, among those responsible for implementing this programme and those responsible for
sustaining the results;
4. Targeted advocacy activities aiming at i) increasing human and financial resources for sanitation in
Nigeria in general and in the targeted areas in particular and ii) demonstrating results from the GSF
supported programme to trigger replication throughout the country;
5. Continuous learning and sharing of best practices, successful approaches and lessons learnt with the
GSF family and with the wider sector partners to accelerate sanitation and hygiene improvements in
Nigeria as a whole.
In addition, the programme aimed to stimulate improved coordination and clarification of roles and
responsibilities of sanitation stakeholders at all levels including partners (UNICEF, WaterAid, NEWSAN
GSF Country Programme Proposal - Nigeria, etc), community structures (WASHCOM) and different tiers of government, Federal Government (relevant MDAs with responsibility for sanitation), State(RUWASA), LGA(WASH Dept).

The implementation strategy was to strengthen and work with existing institutions at state and especially
local government levels to support communities achieve open defecation free status and improved
sanitation and hygiene. These institutions worked with CSO to achieve better sanitation governance,
evidenced by improved financing, and an enabling environment for citizens participation in decision
making. The main actors were the PCM, NTGS, RUWASSA, STGS, State Universal Basic Education Board
(SUBEB), State Ministry of Health (SMOH), WASH Dept., WASHCOM, Natural Leaders and CSOs.
Images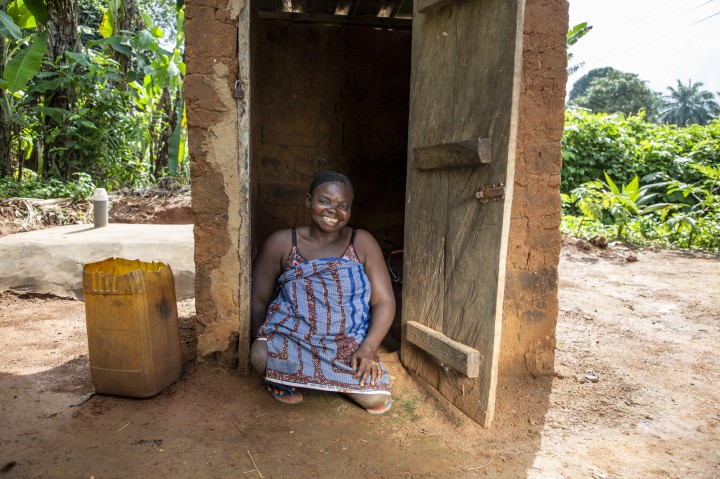 Image: Martina RUSHPIN Programme UP &copy Jason Florio -
Countries of activity
Location of main activity
Objectives
The two objectives of the programme were as follows:
A. Achieve increased improved sanitation coverage and hygiene behaviour through a demand-led process, empowering local communities to improve their sanitation and hygiene practices;
B. Strengthen political commitment at all three tiers of government to improve allocation of appropriate resources for sanitation and hygiene;
Videos
RUSHPIN: The Model Programme for Taking Sanitation to Scale in Nigeria
The Rural Sanitation and Hygiene Promotion in Nigeria (RUSHPIN) is ground-breaking 5-year initiative, funded by the Global Sanitation Fund, that is transforming the health of 2.2 million people in over 1,200 communities in Cross River and Benue states, setting the framework for replication in other states. RUSHPIN produced the first Open Defecation Free LGA in the whole of NIgeria, Obanliku LGA in Cross River state. RUSHPIN is being implemented in partnership with the federal, state & local governments, and civil society. We are applying a demand-driven 'Community-Led Total Sanitation' (CLTS) methodology that empowers entire communities to change their sanitation and hygiene behaviour.
Contact information
mathieu.metois@united-purpose.org
Login to see the e-mail-adress of the contact person.
Mathieu Metois
Login to see the e-mail-adress of the contact person.
Filter tags
Behaviour change Capacity development Community sanitation Enabling environment and institutional strengthening Government-owned entity (not university or research) International NGO Market development Multi-lateral and International Monetary Fund Other funding source or unspecified Practitioners Public awareness, advocacy and civil society engagement Rural Rural areas Specific to one or several countries Sub-Saharan Africa