Purpose
To develop an international standard for safe and sustainable off-grid sanitation technologies
Activities
There is no standard available that sufficiently qualifies safe and sustainable sanitation technologies particularly needed in developing countries. This results in regular failure of installed products, the implementation of non-suitable technologies and the lack of innovative solutions. The primary investment outcome is an internationally recognized technical standard for off-the grid (Reinvented Toilets) sanitation technologies. This standard defines the required criteria to qualify sanitation technologies sufficiently in terms of safety, usability, functionality, reliability, efficiency, maintainability, and compliance with environment. Success of this investment is the establishment of this standard in developing countries (target countries) and on an international level, and the massive dissemination of innovative sanitation solutions with the required quality.

Update on 11 Oct 2018:

Almost 3.5 years later, ISO 30500 was published on the 04th October 2018
Images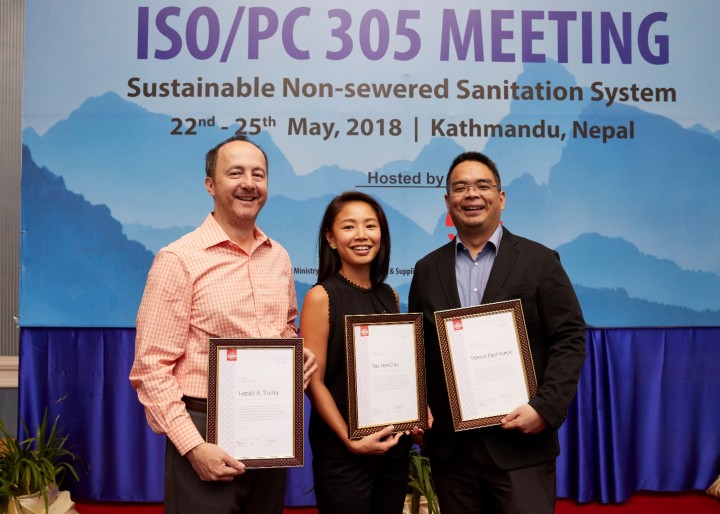 Image: ISO Excellence Award to three of Tuv Sud employees (from left: Gerald Kresta, Mei Yee Chan, Vincent Santos)
Countries of activity
Location of main activity
Objectives
The goal of this project is the development and establishment of an international standard for safe and sustainable sanitation technologies for use by the poor in the developing world with a focus on Reinvented Toilets.

Objectives: The technical standard will ensure that a certified system will meet a clear set of health and environmental safety and regulatory parameters and support the comparison of performance enabling informed decisions. The standard will also provide a common, transparent basis that promotes both technology development and commercial adoption.
Further information
Biggest successes so far:
Tuv Sud contribution as project leaders to PC305 has been recognized by ISO and conferred ISO Excellence Award to three of Tuv Sud employees (https://www.iso.org/iso-awards.html#excellence-anchor). The ISO Excellence Award has been created to reward the achievements of ISO's technical experts. The ISO Excellence Award recognizes the contribution of individuals for recent achievements related to ISO's technical work that can be considered as a major contribution to furthering the interests of standardization and related activities. Any individual nominated in the capacity of expert, project leader or convenor in a committee working group is eligible for the award.

Main challenges / frustration:
Getting the right technical experts on board, getting consensus amongst the diverse stakeholders, working on an aggressive timeline

Research or implementation partners: TÜV SÜD initially developed a private technical standard with a selected group of experts, which was taken as the basis for an ISO International Workshop Agreement (IWA 24:2016, published in September 2016) document. Supported by American National Standards Institute (ANSI), Association Sénégalaise de Normalisation (ASN) and the foundation as the Chairman for Project Committee (PC) 305, IWA 24 was further developed into a full ISO standard.

Grant size: USD $2,983,348

(Alternativ spelling for searches: TUV SUD)
Contact information
CHAN Mei Yee
Login to see the e-mail-adress of the contact person.
Filter tags
Asia & Pacific Bill & Melinda Gates Foundation Global Market development Political processes and institutional aspects Politicians and local decision makers Private sector, including social enterprises Sub-Saharan Africa Technology comparisons Toilets or urinals (user interface)
Links