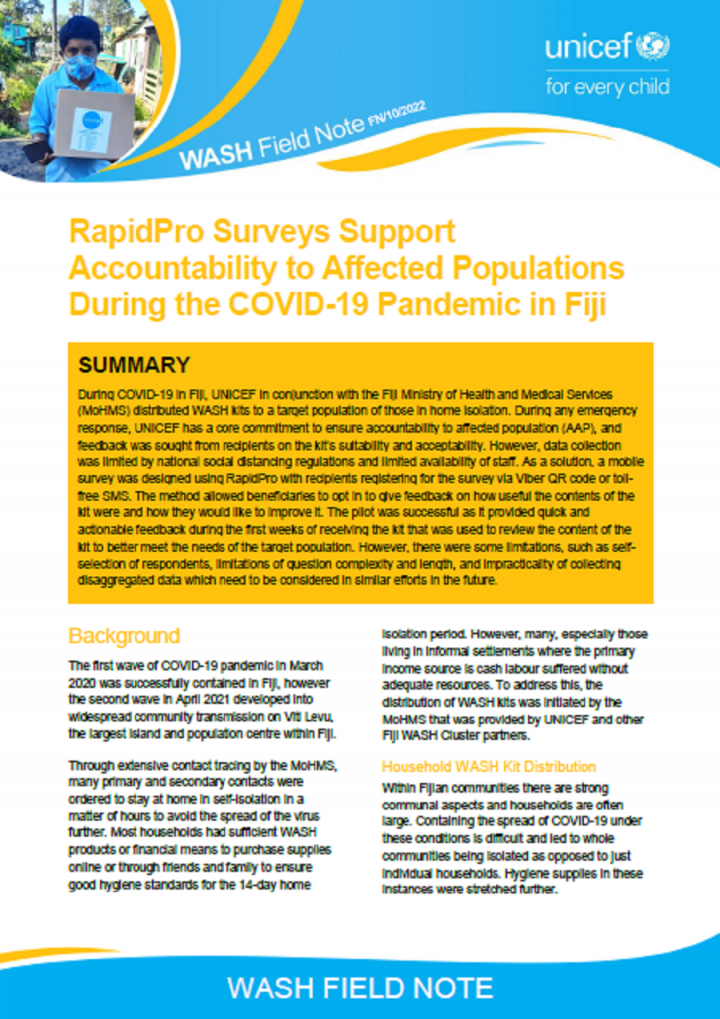 Published in: 2022
Pages: 10
Publisher:
United Nations Children's Fund
Author:
Harford-Cross, T.
Uploaded by:
SuSanA Admin
Partner profile:
United Nations Childrens Fund
---
691 Views
7 Downloads
During COVID-19 in Fiji, UNICEF in conjunction with the Fiji Ministry of Health and Medical Services
(MoHMS) distributed WASH kits to a target population of those in home isolation. During any emergency
response, UNICEF has a core commitment to ensure accountability to affected population (AAP), and
feedback was sought from recipients on the kit's suitability and acceptability. However, data collection
was limited by national social distancing regulations and limited availability of staff. As a solution, a mobile
survey was designed using RapidPro with recipients registering for the survey via Viber QR code or tollfree
SMS. The method allowed beneficiaries to opt in to give feedback on how useful the contents of the
kit were and how they would like to improve it. The pilot was successful as it provided quick and
actionable feedback during the first weeks of receiving the kit that was used to review the content of the
kit to better meet the needs of the target population. However, there were some limitations, such as selfselection
of respondents, limitations of question complexity and length, and impracticality of collecting
disaggregated data which need to be considered in similar efforts in the future.
Bibliographic information
Harford-Cross, T. (2022). RapidPro Surveys Support - Accountability to Affected Populations During the COVID-19 Pandemic in Fiji. United Nations Children's Fund
Filter tags
East Asia & Pacific English
Download