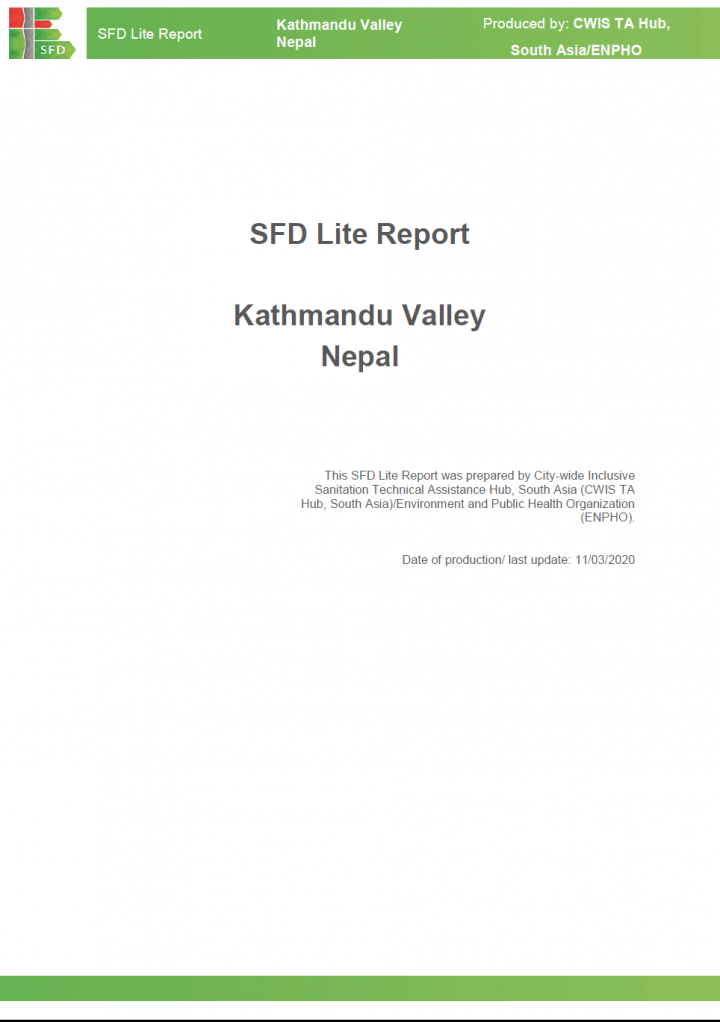 Published in: 2020
Pages: 11
Publisher:
City-Wide Inclusive Sanitation Technical Assistance Hub (CWIS TA Hub, South Asia); Environment and Public Health Organization (ENPHO)
Author:
Angdembe, A.
Uploaded by:
SuSanA Admin
Partner profile:
cewas - international centre for water management services
---
2079 Views
269 Downloads
Kathmandu valley lies between the latitudes 27˚32'13'' and 27˚49'10'' north and longitudes 85˚11'31'' and 85˚31'38'' east at a mean elevation about 1,300 metres above sea level. Kathmandu Valley is the most developed and populated place in Nepal. The majority of offices and headquarters are located in the valley, making it the economic hub of Nepal. The SFD was produced / updated on 11/03/2020.
Additional information
It is home to several world heritage sites: Pashupatinath, Kathmandu durbar square, Bhaktapur durbar square, Patan Durbar Square, Changunarayan temple, Swayambunath and Bouddha stupa. 'Kathmandu' is named after the Durbar Square called kaasthamandap, where Kaastha means 'wood' and Mandap means covered 'shelter' (Pant and Dangol, 2009). The total population of Kathmandu valley is 3,059,466 people residing in 683,954 households.

Kathmandu valley comprises of three districts: Kathmandu, Lalitpur and Bhaktapur with an area of 665 km2. The valley includes two metropolitan cities, Kathmandu and Lalitpur and 16 municipalities, namely Bhaktapur, Budhanilkantha, Chandragiri, Changunarayan, Dakshinkali, Godawari, Gokarneshwor, Kageshwori Manohara, Kritipur, Madhyapur Thimi, Mahalaxmi, Nagarjun, Shankharapur, Suryabinayak, Tarakeshwor and Tokha.
The Kathmandu Valley has a subtropical cool temperate climate with an average summer temperature of 20˚C - 35˚C and 2˚C - 12˚C in winter. The mean annual precipitation is 56.18 inches (1,427mm).
Bibliographic information
Angdembe, A. (2020). SFD Lite Report - Kathmandu Valley, Nepal. City-Wide Inclusive Sanitation Technical Assistance Hub (CWIS TA Hub, South Asia); Environment and Public Health Organization (ENPHO)
Filter tags
Case studies in other formats East Asia & Pacific English SFD Report
Download