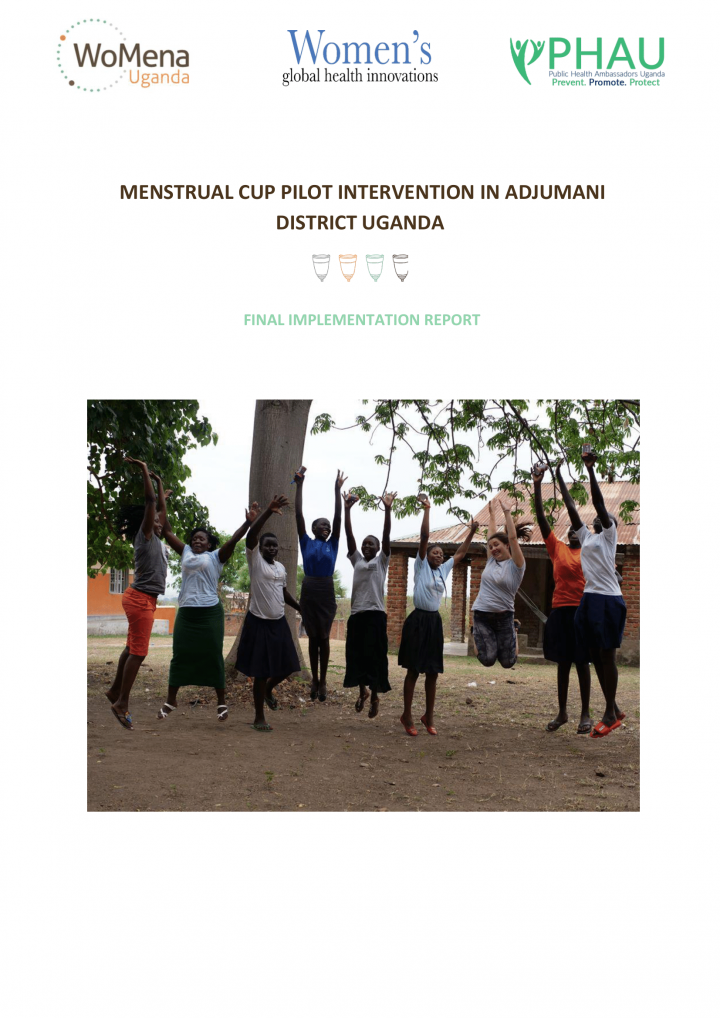 Published in: 2020
Pages: 27
Publisher:
WoMena, Kampala, Uganda
Author:
WoMena
Uploaded by:
Marianne Tellier
Partner profile:
WoMena
---
1422 Views
61 Downloads
---
Location of library entry
In Uganda approximately 86% of South Sudanese refugee arrivals are women and children (UNHCR, 2017a). Globally, girls and women often lack the ability to manage their menstruation with dignity due to lack of adequate and private facilities, safe, acceptable and accessible menstrual health products and knowledge, which can be further exacerbated during conflict and displacement. Menstrual health management is, however, often an overlooked component in acute and protracted emergency situations, as it is not considered life threatening. The menstrual cup is increasingly considered a possible solution for girls and women's menstrual management in both low-income and humanitarian settings. However, there is limited awareness of the menstrual cups in humanitarian programming and minimal evidence on its introduction, acceptance, and effectiveness in refugee settlements. With support from WoMena Uganda and Public Health Ambassadors Uganda (PHAU) and funding from the UNFPA, Women's Global Health Innovations (WGHI) implemented a menstrual cup pilot intervention in Alere Secondary School and Dzaipi Secondary School in Dzaipi and Alere Refugee Settlements in Adjumani District, Uganda, to assess the acceptability and overall impact of introducing the new anti-microbial Bfree menstrual cup.

The pilot intervention was carried out over a period of fourteen (14) months, with a threemonth product use period for Trained Trainers and a five-month trial period for primary beneficiaries (i.e. female students at Alere S.S. and Dzaipi S.S.). The intervention consisted of pre-intervention exploratory visits, and inception meeting with key stakeholders, training of trainers, training of beneficiaries (both girls and boys) on MHM, distribution of a menstrual health kit containing a menstrual cup, and follow-up refreshers and M&E visits. In total, 10 local teachers, 2 War Child Canada staff, and 1 government officials were trained as trainers in menstrual health and 212 schoolgirls received training and a Bfree Cup Kit containing three different sized volume menstrual cups (10ml, 15ml & 25ml). WoMena Uganda carried out monitoring & evaluation (M&E) activities throughout the intervention with the training and technical support of PHAU and WGHI. The quantitative and qualitative M&E tools included menstrual health management (MHM) pre-training surveys, product uptake surveys, knowledge retention tests, baseline and end line questionnaires, in depth interviews and focus group discussions (FGDs).

Results from the baseline indicated that girls and women struggle to manage their menstruation effectively and with dignity. The qualitative data showed that although not always accessible, most girls use disposable pads, , resulting in girls using cloth as make-shift pads. Additionally, the girls reported they were often staining with their current products, causing embarrassment or shame at school.

Despite initial concerns about the menstrual cup, product uptake among intervention participants was high, with 91% of surveyed recipients using their menstrual cups consistently at end line (based on reported use during the last menstrual cycle). After getting over the initial fear of using the cup, users reported the menstrual cup being comfortable to use. Adherence to safe care and user guidelines appeared high among participants, reporting they maintained correct hand-washing and storage procedures - which was easier given the installation of hand washing facilities at the schools and the storage tin provided as part of the Bfree Cup Kit. Access to clean water for rinsing the cup was the biggest barrier, although girls found ways around it by carrying a bottle of water with them to the school latrine/washrooms.

Recommendations for scale up include the incorporation of menstrual health clubs to further engage students and assess MHM challenges from a bottom-up, youth-led approach. Additionally, increased inclusion of school administrators and teachers at intervention schools is encouraged to strengthen supportive structures and school receptiveness to the intervention. An overall increased level of community sensitization and male involvement is encouraged to ensure sustainability and ongoing support once pupils exit the school setting. Finally, in future scale up there should be focus on gaining a more nuanced understanding of menstrual patterns and experiences with strengthened M&E framework.
Bibliographic information
WoMena (2020). Menstrual Cup Intervention in Adjumani District Uganda - Final Implementation Report. WoMena, Kampala, Uganda
Filter tags
English Sub-Saharan Africa
Further readings
Download