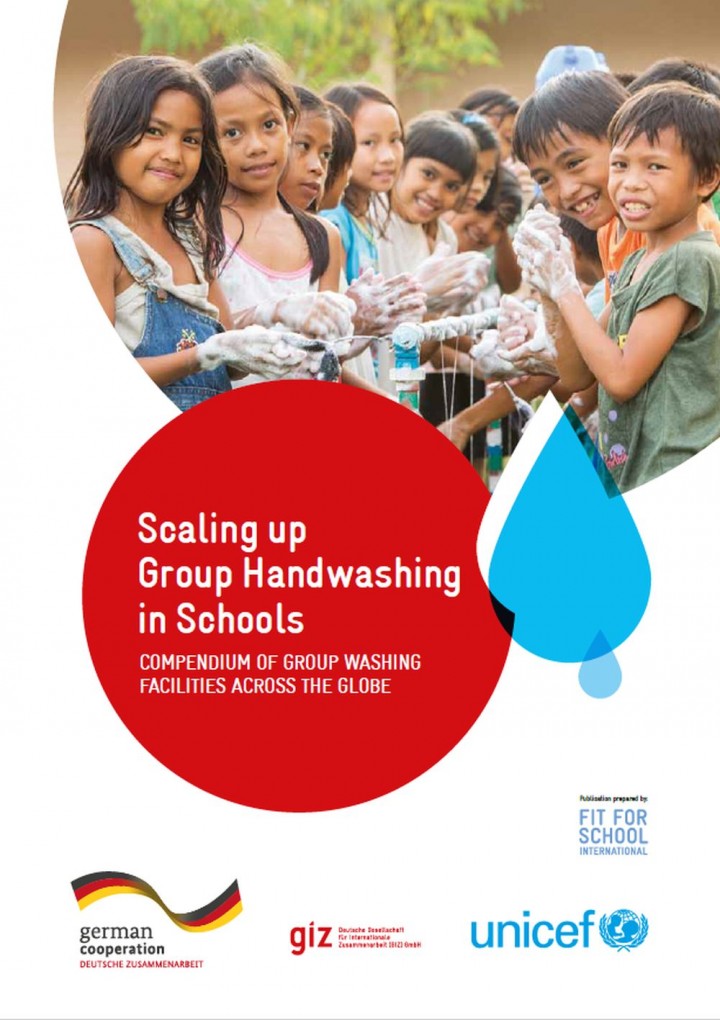 Published in: 2016
Pages: 88
Publisher:
New York, USA; Eschborn, Germany
Author:
UNICEF, GIZ
Uploaded by:
SuSanA Admin
---
6321 Views
183 Downloads
---
Location of library entry
Handwashing with soap is among the most effective hygiene behaviours helping to prevent infectious diseases. The importance of daily group handwashing has been recognized and integrated into the UNICEF/GIZ Three Star Approach (TSA) to WASH in Schools (WinS), which has gained momentum around the world. With its focus o usable, cost-efficient and adequate infrastructure, the TSA provides a realistic stepwise concept to improve WinS infrastructure. It also creates opportunities for schools, school communities and decision makers in the education and other relevant sectors to establish a healthy learning environment for children to practice good hygiene behaviour in the school setting.

To enable group handwashing in schools a variety of facilities have been built in different contexts around the globe. The "Compendium of Group Washing Facilities around the Globe" (UNICEF-BMZ-GIZ) comprises such examples from Afghanistan, Cambodia, Fiji, India, Indonesia, Kiribati, Lao PDR, Liberia, Mali, Nigeria, Philippines, Tanzania and Zambia. Presented designs include the entire span of possible existing facilities reflecting different circumstances, necessities and resources of school communities. Key features and characteristics of each facility are summarized in tables providing information about the design structure, as well as aspects of construction, installation, operation and maintenance, usability, and the opportunity of community involvement.

A section on advantages, limitations and recommendations summarizes key aspects for prospective users. A simplified isometric drawing displays main elements of the facility and a Bill of Quantity details different materials and estimated costs of each facility.

The Compendium of Group Washing Facilities aims to inform and inspire WASH practitioners, schools and their communities to strengthen healthy practices and ensure a healthy learning environment for children.
Bibliographic information
UNICEF, GIZ (2016). Scaling up group handwashing in schools - Compendium of group washing facilities across the globe. New York, USA; Eschborn, Germany
Filter tags
Behaviour change (WG13) English Guidelines and manuals Practitioners Schools
Download