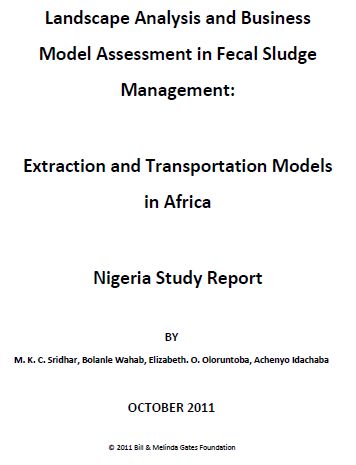 Published in: 2011
Publisher:
Consultancy report commissioned by Bill & Melinda Gates Foundation, Seattle, USA
Author:
Sridhar, M. K. C., Wahab, B., Oloruntoba, E. O., Idachaba, A.
Uploaded by:
SuSanA secretariat
Partner profile:
common upload
---
4937 Views
65 Downloads
---
Location of library entry
Content - Summary
To better understand the status of septic sludge management policy and practice in Nigeria, an assessment of landscape analysis and business model of fecal sludge management in the country has been undertaken. The assessment has been carried out in Nation's three cities, viz. Abuja- the capital of Nigeria, Ibadan- the largest and populous capital of Oyo State, and Yenagoa- a small emerging coastal city in Bayelsa State in the Niger Delta Region. The objectives were to assess the amount of fecal sludge generated in the selected cities through toilets and septic tanks, the collection and disposal practices by the communities and fecal sludge emptiers (both manual and mechanical operators), their problems, constraints in sustainable operations and to develop a business model so as to make the fecal management a viable proposition in urban centers in Nigeria.

Based on the observations and analysis the following recommendations are made: (a) need for an established regulatory framework and enabling infrastructures in place, (b) the national environmental sanitation policy has to move from being a desktop paper document to being a living and practical document, (c) implementation of the FSM guidelines needs to be enforced by the responsible government agencies, (d) there needs to be an enabling environment for the mechanical and manual operators to carry out services in a safe and business conducive environment, (e) adequate disposal facilities need to be constructed and in the wake of the current cholera epidemic in Ibadan, such measures are urgent and imperative, (f) the government agencies should ensure appropriate laws are enacted and enforced to make it mandatory for all mechanical and manual emptiers to register with the appropriate agencies. Knowing who the service providers are in-city is a building block towards building a joint working partnership between the public and private sectors, and (g) active monitoring of registered service providers by the government authorities will ensure compliance with the applicable laws and regulations for fecal sludge (excreta) management.
Bibliographic information
Sridhar, M. K. C., Wahab, B., Oloruntoba, E. O., Idachaba, A. (2011). Landscape Analysis and Business Model Assessment in Fecal Sludge Management: Extraction and Transportation Models in Africa, Nigeria Study Report. Consultancy report commissioned by Bill & Melinda Gates Foundation, Seattle, USA
Filter tags
English Faecal sludge treatment processes Fundamental research and engineering Peri-urban Sub-Saharan Africa
Download