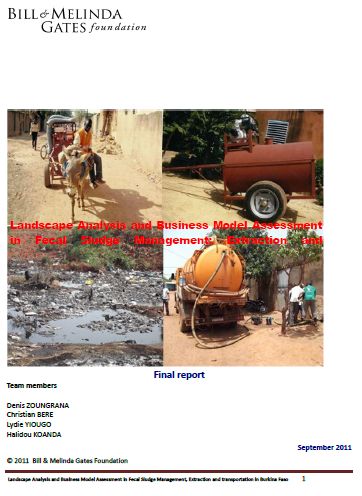 Published in: 2011
Publisher:
Consultancy report commissioned by Bill & Melinda Gates Foundation, Seattle, USA
Author:
Zoungrana, D., Bere, C., Yiougo, L., Koanda, H.
Uploaded by:
SuSanA secretariat
Partner profile:
common upload
---
4778 Views
75 Downloads
---
Location of library entry
Content - Summary
The management of faecal sludge of on-site sanitation facilities is a big issue in Burkina Faso urban areas. This study outlines the sanitation services delivery in three (3) cities of Burkina Faso, namely Ouagadougou, Bobo-Dioulasso and Fada N'Gourma. It aims at discuss current faecal sludge management approaches and the way forward.

According to the national survey on household's access to domestic sanitation (2010) and national standards the urban sanitation coverage is critical (9%). With the current approach and investment, Burkina Faso has gained only 1 point in percentage per year in urban sanitation coverage. The widespread sanitation facility is still the simple pit latrine called « traditional latrine ». Meanwhile faecal sludge is extracted from on-site sanitation facilities and dumped directly in the environment with negative impacts on public health.

Burkina Faso has adopted since the nineties decentralized waste management and strategic sanitation planning approach for urban sanitation. Local governments are in charge of sanitation planning with the support of national Water supply and sanitation utility (ONEA). Unfortunately faecal sludge management is not explicitly included in plans.

The findings of the study shows that Burkina Faso has clear institutional framework to tackle sanitation services delivery but the institutions and individuals do not have capacity to take over. Private sector got the initiative to manage the faecal sludge at their risks. The market reaches 80% of faecal sludge produced. Finance mobilized could be estimated at least equal to 2/3 of sanitation tax collected per annum. The system is already market-driven in big and medium cities. But it is not sustainable regarding financing and the environment. Urban planners should integrate faecal sludge management in strategic sanitation plan as a strong component of sanitation service delivery. The private operators could be involved in faecal sludge management through extraction and transportation of faecal sludge, faecal sludge treatment plants and disposal sites operation and maintenance. At the current situation, households payment will be enough to finance a market-driven primary extraction and transportation from their facilities. But public finance is needed for secondary transportation to the treatment plants and disposal sites. Otherwise the faecal sludge emptiers business won't be sustainable for short and mid-term. Sanitation tax attached to water bills could be an opportunity to use for the implementation of the new strategic planning.

Four (4) strong recommendations evolve from the study. To achieve sustainable sanitation service delivery, financial and technical partners in sanitation should pay attention to invest in upgrading the traditional latrines up to the national standards, construction of local transfer holding pits, design and construction of faecal sludge treatment plants or low-cost dumping sites, and coach mechanical operators. As a pre-requisite condition, national and local governments should set up strong regulation for faecal sludge management.
Bibliographic information
Zoungrana, D., Bere, C., Yiougo, L., Koanda, H. (2011). Landscape Analysis and Business Model Assessment in Fecal Sludge Management, Extraction and transportation in Burkina Faso - Final report. Consultancy report commissioned by Bill & Melinda Gates Foundation, Seattle, USA
Filter tags
English Faecal sludge treatment processes Fundamental research and engineering Peri-urban Sub-Saharan Africa
Download