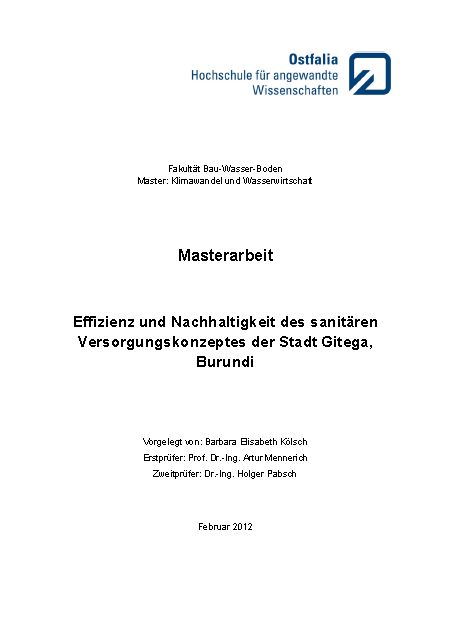 Published in: 2012
Publisher:
MA thesis, Fakultät Bau-Wasser-Boden, Ostfalia, University of Applied Sciences, Wolfenbüttel, Germany
Author:
Kölsch, B.
Uploaded by:
SuSanA secretariat
Partner profile:
common upload
---
5117 Views
25 Downloads
---
Location of library entry
Content - Summary
(Thesis in German with English summary)

Adequate sanitation plays a central role and is therefore of great significance for human survival. A lack of or inadequate hygienic sanitation facilities have a major impact on health as well as human and economic development. For a long time little attention has been paid
to the issue within the international donor community. However since the year 2008 had been declared as the "International Year of Sanitation", the subject has begun to receive increased attention. It has been recognized that development interventions which aim only at increasing the quantity of sanitation facilities are not sufficient to achieve major changes in the field of sanitation at the household level. The current approaches therefore aim to improve and increase the quality of sanitation facilities, including the safe disposal of faeces and a general improvement in hygiene.

This master thesis aims to make a contribution to the discussion of improved sanitation approaches in the German Development Cooperation and to help capture current activities, albeit within a limited region. Initially this thesis introduces the main theories and concepts for
improving sanitation. Subsequently, the project "Sanitation of the city of Gitega, Burundi" is presented which is used as case study in this thesis. Within this project the effects and the possibilities of improved sanitation are identified and analyzed. The analysis consists of an
evaluation which is based on the five evaluation criteria of the Development Assistance Committee (DAC) of the Organization for Economic Cooperation and Development (OECD).

A final discussion draws conclusions from the results of the evaluation and answers the research questions identified at the beginning.
The results of the evaluation show that the project complies with the latest approaches to improving sanitation. Furthermore it can be shown that the project has been well planned and thought through and thus has a high potential that the desired effects and outcomes will ultimately be achieved. The greatest risks and challenges of the project lie in the following five areas: project duration, changes in hygiene behaviour, increase in the demand for sanitary facilities, granting of subsidies and financial as well as ecological sustainability. However, by adapting education and awareness programs to the demands of specific population characteristics and by significantly increasing the number of programs these risks can be overcome. In addition they must be carried out via a sufficient number of suitable means of communication. Of crucial importance is also extensive training for the cleaning staff and the introduction of techniques corresponding to the principles of recycling.
Bibliographic information
Kölsch, B. (2012). Effizienz und Nachhaltigkeit des sanitären Versorgungskonzeptes der Stadt Gitega, Burundi (in German) - Efficiency and sustainability of the urban sanitation concept in Gitega, Burundi. MA thesis, Fakultät Bau-Wasser-Boden, Ostfalia, University of Applied Sciences, Wolfenbüttel, Germany
Filter tags
Constructed wetlands Faecal sludge treatment processes German Sub-Saharan Africa Urban (entire city)
Download