World Waternet, Netherlands Water Partnership and Aqua for All, endorsed by the Dutch Ministry of Foreign Affairs, Directorate-General for International Cooperation (DGIS), initiated the biennial Sarphati Sanitation Award in 2013 to honor the outstanding contribution of individuals or organizations to the global sanitation and public health challenge through entrepreneurship.


Theme SSA 2019: Integrated sanitation (collection, transport and treatment/re-use) solution for urban context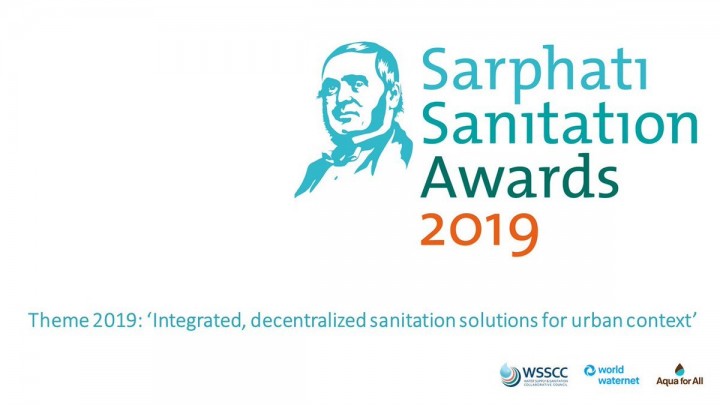 Further Description / Program
In the 19th century Amsterdam's population figures resembled those of a developing world city with unparalleled birth rates accompanied by high mortality rates. Dr. Samuel Sarphati was a doctor, chemist and city planner who lived in the city. He was convinced that proper sanitation was a crucial factor for improving public health and the standard of living. With his entrepreneurial spirit he was able to demonstrate that money could be made by collecting and moving human waste out of the city. He knew how to link different public and private parties and inspire others to become involved and continue contributing to finding sustainable solutions to the sanitation challenge.

In 2018 the Water Supply & Sanitation Collaborative Council (WSSCC) joined the Sarphati Sanitation Award Partners Aqua for All and World Waternet, in organizing the SSA 2019. The Sarphati Sanitation Awards 2019 will be handed out for the fourth time during the opening of the Amsterdam International Water Week on 4 November 2019.


In the Netherlands almost all domestic wastewater is treated centralized. Flush toilets use liters of water and this wastewater is collected and discharged via the sewer system to wastewater treatment plants. This way of human and household waste water discharge is expensive and water and energy consuming. Worldwide progress towards full coverage of sanitation and wastewater treatment is insufficient to achieve Sustainable Development Goal 6.2 in 2030.
The Sanitation community is challenged for more than a decade to come up with sustainable, scalable and affordable solutions.
Links to external websites