We are putting together information from around the web that local organizations, government representatives and others can use for community outreach to inform people how to avoid catching COVID-19, or managing home care for patients.
Images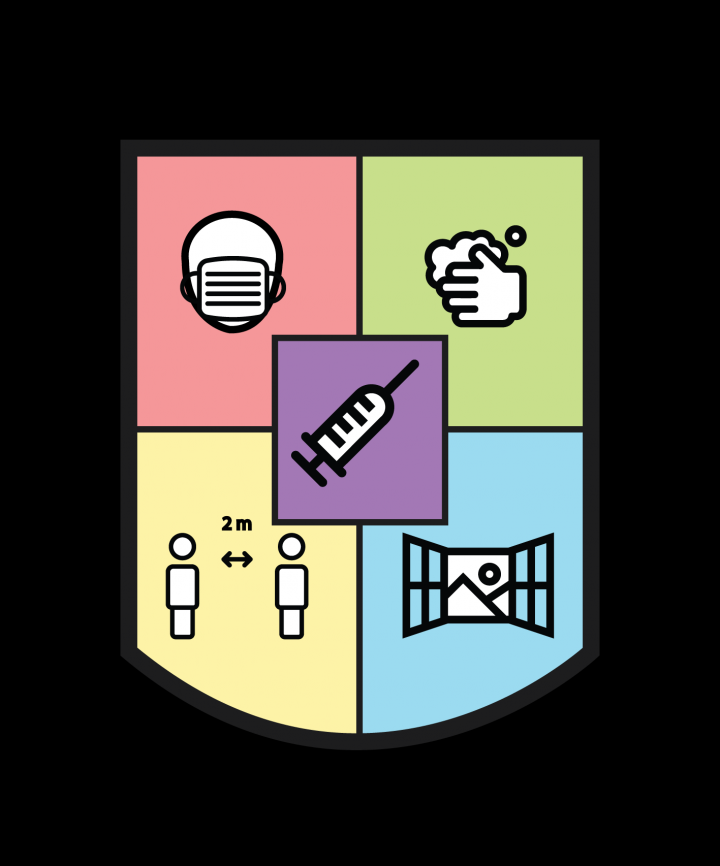 Image: The CABs &copy Aryaman Jacob -
India has recorded approximately 22.3 million COVID-19 cases since the pandemic began. The second wave has been more severe and has spread faster than the first. To slow and ultimate stop the spread, urgent actions are needed involving COVID-19 appropriate behaviour (CAB). These protective actions include frequent and thorough handwashing with soap, using masks and physical distancing. The Ministry of Health and Family Welfare has identified 15 CABs as our understanding of the disease has evolved.

On 5th May, World Hand Hygiene Day, we organized a webinar on CABs. More than 270 people attended the webinar where the Call to Action was presented. Several organizations expressed their support to the Call and spoke about the need to propagate it widely. Participants spoke about the need promote CABs and safe isolation in constrained settings especially among the vulnerable and marginalised. Networks of self-help groups, youth clubs and swachhagrahis could be engaged to promote CABs.

Capacity building at all levels was needed from the decision makers up to the front-line workers around CABs, said participants. Alongside, suitable and updated IEC materials, available from a central location in multiple languages should be provided. Technical guidelines on various aspects – handwashing points, wearing masks, ventilation and physical distancing – was also needed to ensure the correct hardware was available and used.

The recording of the webinar is available at this link:
https://sphereindia-covid19academy.zoom.us/rec/share/-WEb37pMOq8bStvpp56ZaGkM_6mLaVv0uaKGN6qu0Qdg1Y1S1Ml2to1rY90FM0-3.yN4bGuQ6bWJd3Qme. Use the passcode of WaterAid_050521 to access it.

As a follow up, we are initiating a two-part e-discussion on the SuSanA India forum to elicit information from members on how they have promoted CABs with marginalized/vulnerable groups reached including what worked well, what did not work, coverage (state, district), open source resources. This will be followed by the second part on management of health care waste at the home level.
Letter from the Government to district collectors
The National Disaster Management Authority, Government of India, has instructed all district collectors and magistrates to set up a coordination mechanism to engage NGOs in attempts to stymie the COVID-19 pandemic. This letter, following a meeting with nearly 1000 NGOs, lays out how this is to be done.
Human rights advisory on Right to Health in view of COVID-19
The National Human Rights Commission of India issued this advisory to state governments on actions to be taken to ensure peoples' Right to Health.
Instructions to panchayats about managing adult COVID-19 patients
The Government of India has written to panchayats suggesting ways to make people more aware about how to protect themselves from COVID-19 and manage adult COVID-19 patients.
Niti Aayog advisement to NGOs
Niti Aayog, the think tank of the Government of India, has send out a letter informing NGOs about materials available on promoting the use of masks.