Planejamento para um saneamento sustentavel (in Portuguese)
Planning of sustainable sanitation for cities (Factsheet of Working Group 6)
---
Published in: 2008
Publisher:
Sustainable Sanitation Alliance (SuSanA)
Author:
Lüthi, C., Lehn, H., Norström, A., Panesar, A., Rüd, S., Saywell, D., Verhagen, J.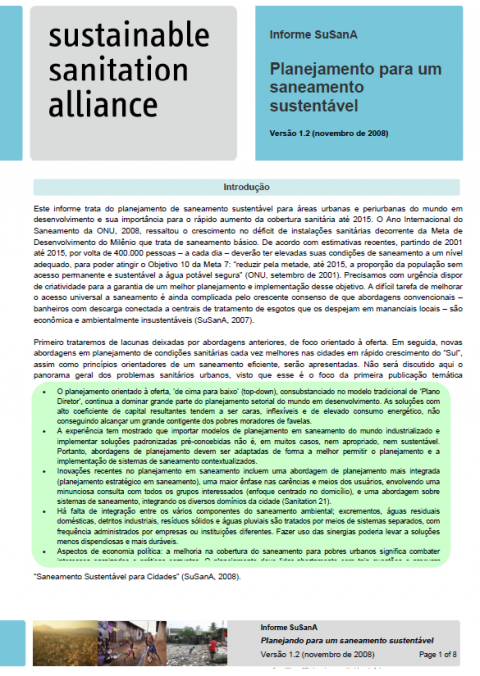 Published in: 2008
Publisher:
Sustainable Sanitation Alliance (SuSanA)
Author:
Lüthi, C., Lehn, H., Norström, A., Panesar, A., Rüd, S., Saywell, D., Verhagen, J.
---
Planejamento para um saneamento sustentavel (in Portuguese)
Planning of sustainable sanitation for cities (Factsheet of Working Group 6)
---
Content - Summary
Este informe trata do planejamento de saneamento sustentável para áreas urbanas e periurbanas do mundo em desenvolvimento e sua importância para o rápido aumento da cobertura sanitária até 2015. O Ano Internacional do
Saneamento da ONU, 2008, ressaltou o crescimento no déficit de instalações sanitárias decorrente da Meta de Desenvolvimento do Milênio que trata de saneamento básico. De acordo com estimativas recentes, partindo de 2001 até 2015, por volta de 400.000 pessoas – a cada dia – deverão ter elevadas suas condições de saneamento a um nível adequado, para poder atingir o Objetivo 10 da Meta 7: "reduzir pela metade, até 2015, a proporção da população sem acesso permanente e sustentável a água potável segura" (ONU, setembro de 2001). Precisamos com urgência dispor
de criatividade para a garantia de um melhor planejamento e implementação desse objetivo. A difícil tarefa de melhorar o acesso universal a saneamento é ainda complicada pelo crescente consenso de que abordagens convencionais – banheiros com descarga conectada a centrais de tratamento de esgotos que os despejam em mananciais locais – são econômica e ambientalmente insustentáveis (SuSanA, 2007).
---
Bibliographic information
Lüthi, C., Lehn, H., Norström, A., Panesar, A., Rüd, S., Saywell, D., Verhagen, J. (2008). Planejamento para um saneamento sustentavel (in Portuguese) - Planning of sustainable sanitation for cities (Factsheet of Working Group 6). Sustainable Sanitation Alliance (SuSanA)
---
Download
---
---