Excreta Disposal in Emergencies - A Field Manual
Harvey, P.A. (2007)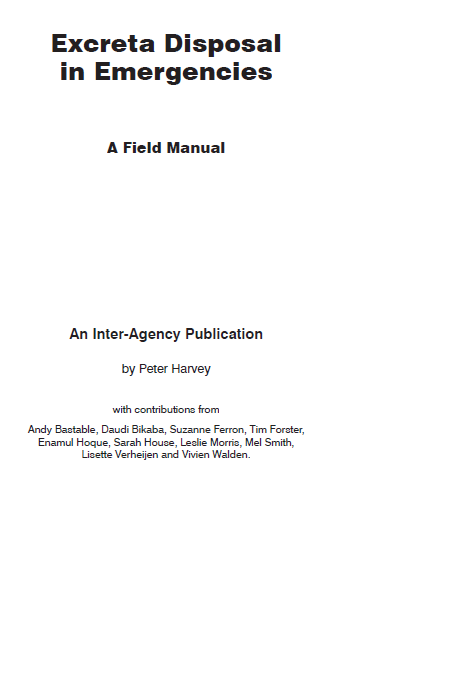 Published in: 2007
Publisher:
WEDC
Author:
Harvey, P.A.
---
4198 Views
26 Downloads
Content - Summary
In this manual existing, innovative and new technologies and approaches for excreta disposal in emergency situations are investigated. It provides practical guidance on how to select, design, construct and maintain appropriate excreta disposal systems to reduce facael transmission risks and protect public health in emergency situations. Relevant situations include natural disasters, relief for refugees and internally displaced persons, and complex emergencies, focusing on rural and peri-urban areas.
Bibliographic information
Harvey, P.A. (2007). Excreta Disposal in Emergencies - A Field Manual. WEDC
Download
We got more than just a new look!
Welcome to the new website of susana.org
On 1 September we relaunched our website, using a new menu concept to improve the user experience. However, some functions are not working yet but we are working on those now. If you have any comments or suggestions please post them here on the SuSanA discussion forum. Thank you.
---