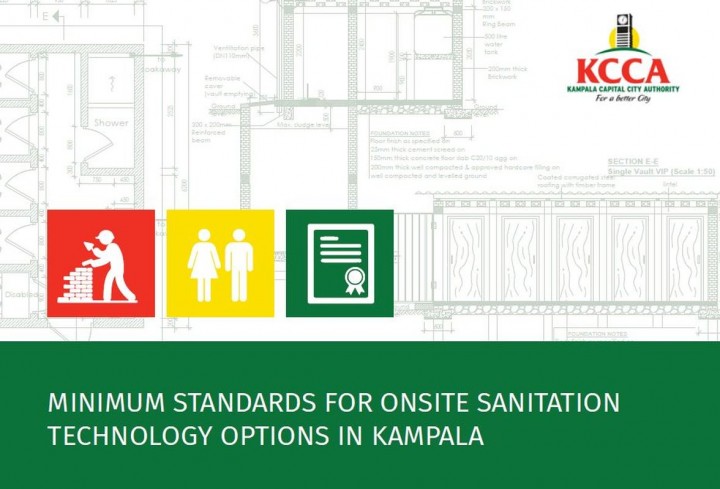 Published in: 2017
Publisher:
Kampala Capital City Authority
Author:
Kampala Capital City Authority
KCCA's current drive towards improving faecal sludge management in Kampala is cognisant of the city sanitation challenges and significant contribution of sanitation to economic and social development of the country and thus its citizens. The Authority and its divisions have an intermediary function for the coordination of sanitation planning and the harmonisation with urban development planning.
This document therefore is intended to assist households, developers and KCCA to define the minimum standards for on-site sanitation technology options that can be adopted in Kampala city. It will provide enforcement guidance to KCCA and assist ance to improve FSM in the city.
These standards are derived from the provisions in existing legislation and guidelines related to sanitation in Uganda. They incorporate current faecal sludge management practice in the different KCCA divisions and best practice in similar contexts.
Content - Summary
Chapter 1 provides the basis and overview of the standards, chapter 2 and chapter 3 provide minimum standards for household and public on-site latrine options respectively. Chapter 4 focuses on details relevant to add-ons like septic tanks and toilet accesories; Annexes with technical details of the different options form the last section.
Bibliographic information
Kampala Capital City Authority (2017). Minimum Standards for Onsite Sanitation Technology Options in Kampala. Kampala Capital City Authority
Download
We got more than just a new look!
Welcome to the new website of susana.org
On 1 September we relaunched our website, using a new menu concept to improve the user experience. However, some functions are not working yet but we are working on those now. If you have any comments or suggestions please post them here on the SuSanA discussion forum. Thank you.
---