The gap between construction and usage of toilets
An under-identified problem
---
Published in: 2016
Pages: 2
Publisher:
BMJ Global Health
Author:
Hajra, G., Dutta, A.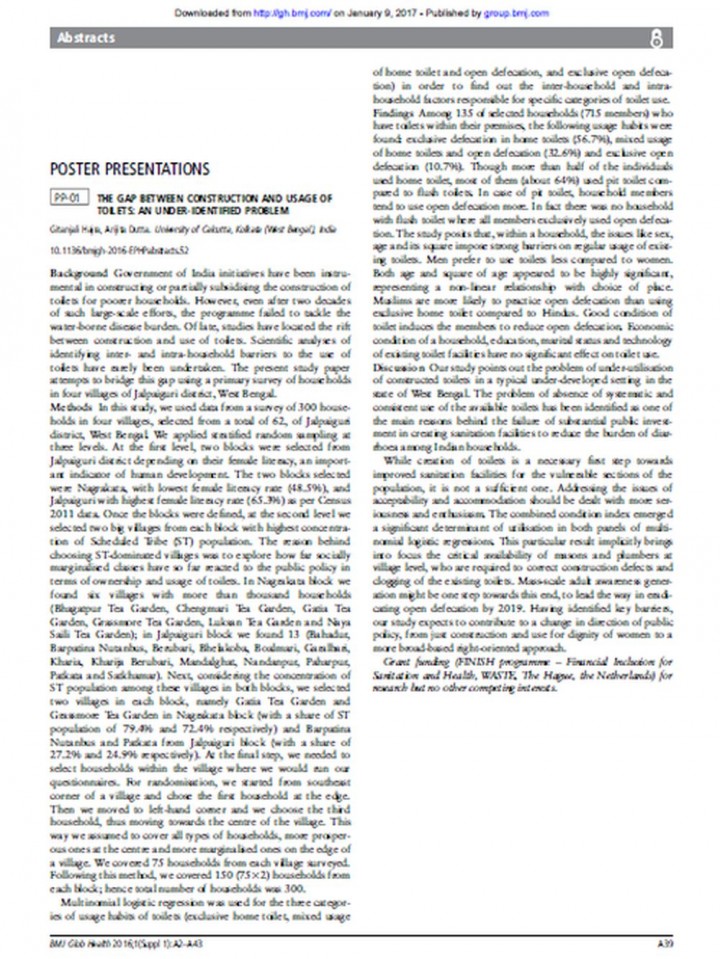 Published in: 2016
Pages: 2
Publisher:
BMJ Global Health
Author:
Hajra, G., Dutta, A.
---
The gap between construction and usage of toilets
An under-identified problem
Government of India initiatives have been instrumental in constructing or partially subsidising the construction of
toilets for poorer households. However, even after two decades of such large-scale efforts, the programme failed to tackle the water-borne disease burden. Of late, studies have located the rift between construction and use of toilets. Scientific analyses of identifying inter- and intra-household barriers to the use of toilets have rarely been undertaken. The present study paper attempts to bridge this gap using a primary survey of households in four villages of Jalpaiguri district,West Bengal.
---
Bibliographic information
Hajra, G., Dutta, A. (2016). The gap between construction and usage of toilets - An under-identified problem. BMJ Global Health
---
Information on external sites
---
Download
---
---