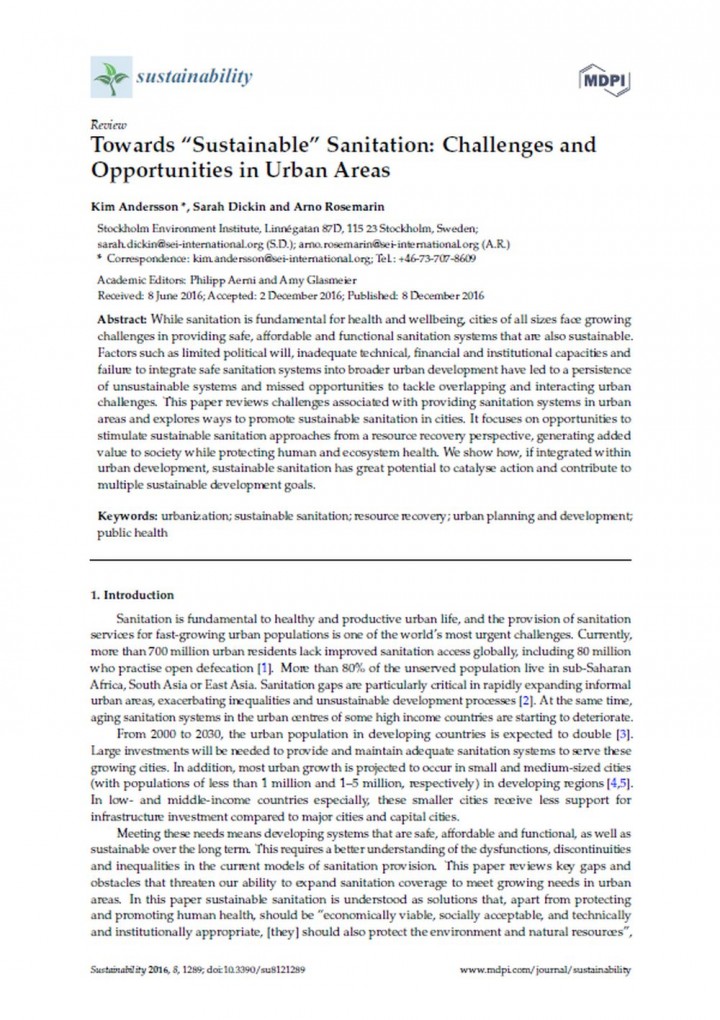 Published in: 2016
Pages: 14
Publisher:
Stockholm Environment Institute
Author:
Andersson, K., Dickin, S., Rosemarin, A.
While sanitation is fundamental for health and wellbeing, cities of all sizes face growing challenges in providing safe, affordable and functional sanitation systems that are also sustainable. Factors such as limited political will, inadequate technical, financial and institutional capacities and failure to integrate safe sanitation systems into broader urban development have led to a persistence of unsustainable systems and missed opportunities to tackle overlapping and interacting urban challenges.
This paper reviews challenges associated with providing sanitation systems in urban areas and explores ways to promote sustainable sanitation in cities. It focuses on opportunities to stimulate sustainable sanitation approaches from a resource recovery perspective, generating added value to society while protecting human and ecosystem health.
We show how, if integrated within urban development, sustainable sanitation has great potential to catalyse action and contribute to multiple sustainable development goals.
Bibliographic information
Andersson, K., Dickin, S., Rosemarin, A. (2016). Towards "Sustainable" Sanitation: Challenges and Opportunities in Urban Areas. Stockholm Environment Institute
Download
We got more than just a new look!
Welcome to the new website of susana.org
On 1 September we relaunched our website, using a new menu concept to improve the user experience. However, some functions are not working yet but we are working on those now. If you have any comments or suggestions please post them here on the SuSanA discussion forum. Thank you.
---