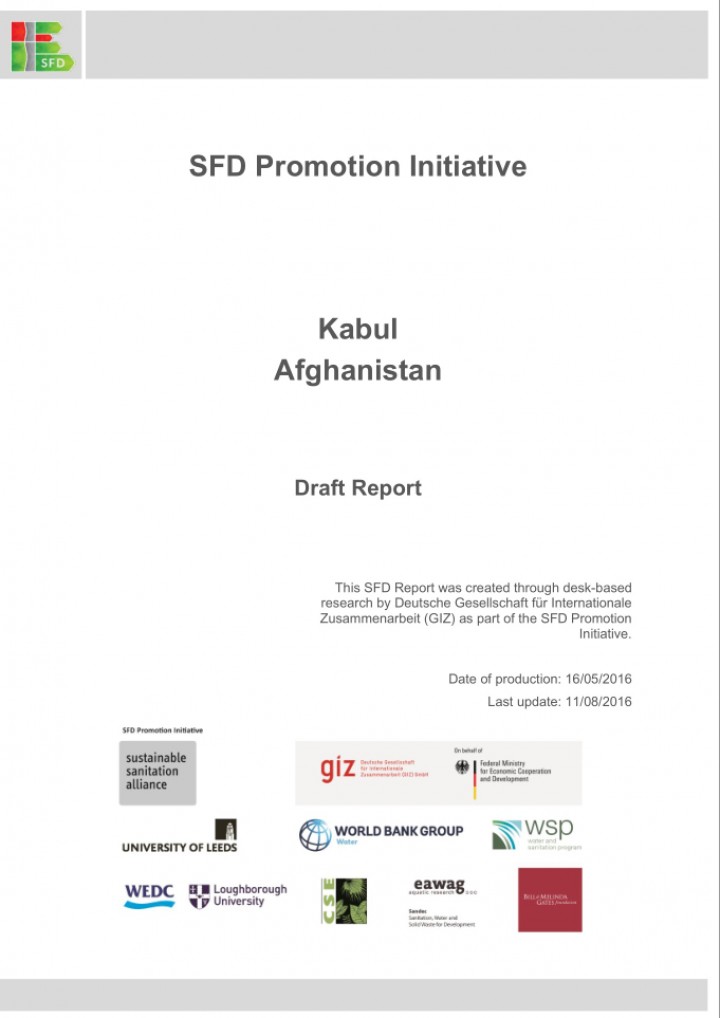 Published in: 2016
Pages: 36
Publisher:
Gesellschaft für Internationale Zusammenarbeit (GIZ)
Author:
Hassib, Y., Etemadi, H.
Kabul is the capital and largest city of Afghanistan, located in the eastern section of the country. According to a 2012 estimate, the population of the city was around 3,289,000. It was selected for the SFD program because it is a mega city with only 20% supplied with piped water and 60% informal dwellings. In Kabul it was estimated that 21% of excreta is managed safely while 79% of the excreta ends up directly in the environment without adequate treatment.

This Shit Flow Diagram (SFD) Report was created through desk-based research by GIZ as part of the SFD Promotion Initiative.

Date of production: 16/05/2016
Last update: 11/08/2016
Bibliographic information
Hassib, Y., Etemadi, H. (2016). SFD Report - Kabul, Afghanistan - SFD Promotion Initiative. Gesellschaft für Internationale Zusammenarbeit (GIZ)
Download
We got more than just a new look!
Welcome to the new website of susana.org
On 1 September we relaunched our website, using a new menu concept to improve the user experience. However, some functions are not working yet but we are working on those now. If you have any comments or suggestions please post them here on the SuSanA discussion forum. Thank you.
---