Sanitation investments in Ghana
An ethnographic investigation of the role of tenure security, land ownership and livelihoods
---
Published in: 2016
Pages: 12
Publisher:
BMC Public Health
Author:
Awunyo-Akaba, Y. et al.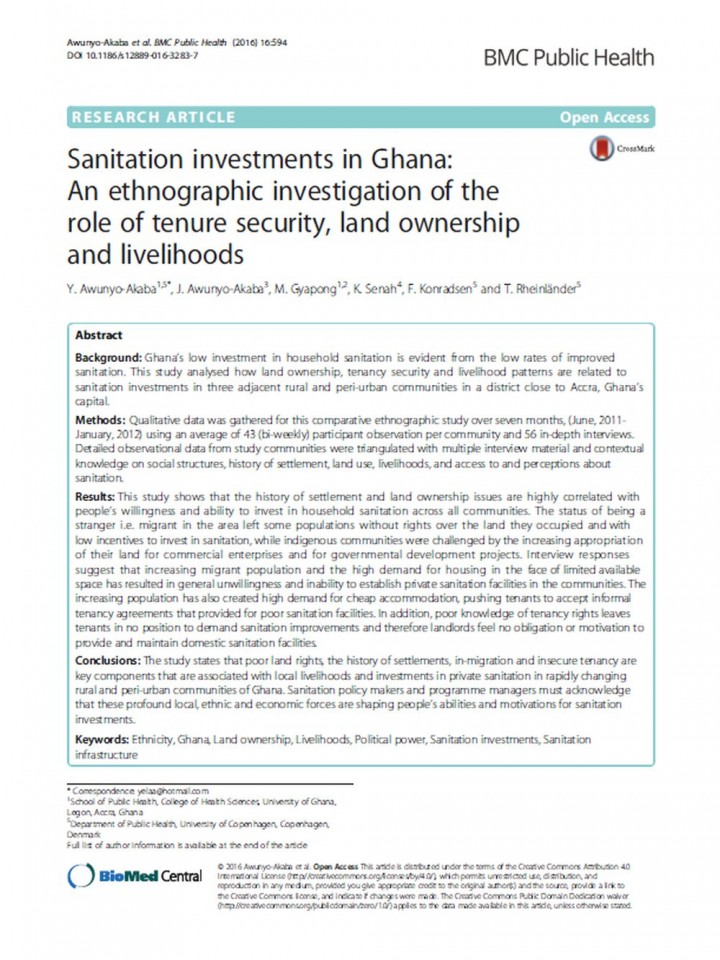 Published in: 2016
Pages: 12
Publisher:
BMC Public Health
Author:
Awunyo-Akaba, Y. et al.
---
Sanitation investments in Ghana
An ethnographic investigation of the role of tenure security, land ownership and livelihoods
Ghana's low investment in household sanitation is evident from the low rates of improved sanitation. This study analysed how land ownership, tenancy security and livelihood patterns are related to sanitation investments in three adjacent rural and peri-urban communities in a district close to Accra, Ghana's capital.
---
Bibliographic information
Awunyo-Akaba, Y. et al. (2016). Sanitation investments in Ghana - An ethnographic investigation of the role of tenure security, land ownership and livelihoods. BMC Public Health
---
Download
---
---