Introducing city sanitation plan: Trainer's manual

---
Published in: 2015
Pages: 76
Publisher:
Support to National Urban Sanitation Policy - II, Deutsche Gesellschaft für Internationale Zusammenarbeit (GIZ) GmbH
Author:
Walther, D.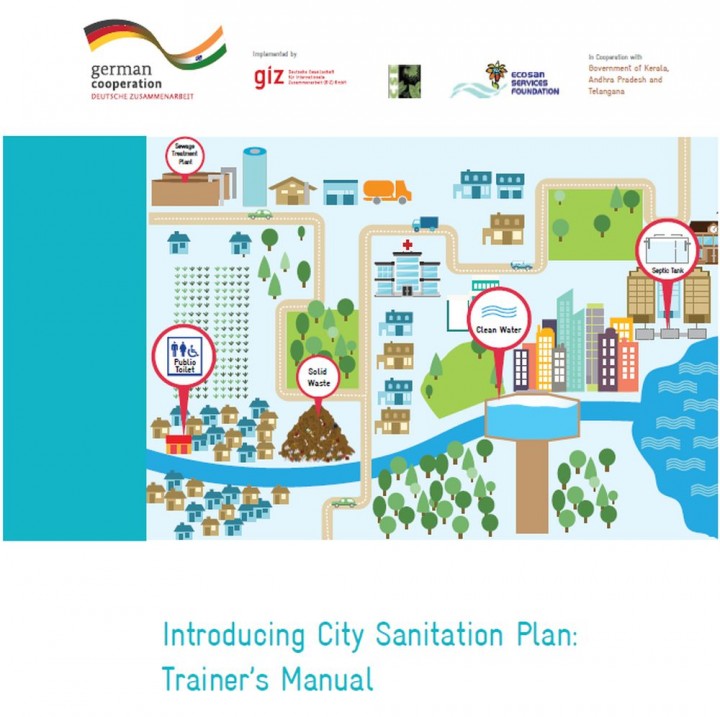 Published in: 2015
Pages: 76
Publisher:
Support to National Urban Sanitation Policy - II, Deutsche Gesellschaft für Internationale Zusammenarbeit (GIZ) GmbH
Author:
Walther, D.
---
Introducing city sanitation plan: Trainer's manual

Ensuring citywide sanitation is challenging and needs strategic planning as well as involvement of various actors /agencies, such as decision makers at state and city level, city engineers and technical experts in areas of urban planning, sanitation, technical infrastructure and financing. One of the main requirements in establishing a citywide sanitation system on the ground is strong institutions and technical as well as managerial capacities at state and city level. For this, among other objectives, Ministry of Urban Development (MoUD) and Deutsche Gesellschaft für Internationale Zusammenarbeit (GIZ) GmBH have joined hands and started the project "Support to the National Urban Sanitation Policy II – SNUSP II". As part of this project GIZ together with partner states and the Centre for Science and Environment (CSE) has developed a stepwise training and handholding programme to capacitate Urban Local Bodies (ULB) in preparing and implementing their City Sanitation Plan. The training programme was tested with the trainers and offi cials from the partner states of - Telangana, Andhra Pradesh and Kerala. The City Sanitation Plan (CSP) Sensitization Training is the first module of this training programme. Ecosan Services Foundation has been deployed for developing the present training manual for trainers who will act as facilitators for the CSP sensitization training program.
---
Content - Summary
Foreword
Introduction & Framework of Training
The CSP Sensitization Training
Target Group for the Training
Objective of the Training
How to use this manual
Part I: Course Methodology
How Adults Learn
Experience based, interactive learning
Part 2: Trainers Guide
Roles and Skills of a Trainer
Trainer as learner
Tips for being a good trainer
Questions: Key to Unlock New Doors
Active Listening
Designing of the course
Part 3: Sessions Plans
Session 01 – Orientation to the Training course
Session 02 – Module 1: Relevance and added values of the CSP
Session 03 – Module 2: How to integrate CSP into urban planning
Session 04 – Module 3: Urban Sanitation Systems and Septage Management
Session 05 – Module 4: How to translate CSP into action
Session 06 – Module 5: Enabling environment for implementation of CSP
Session 07 – Module 6: How to make a CSP a living document
Session 08 – Transfer and Feedback session
Part 4: Interactive Training Methods and Tools
The Harvard Case method
Socratic method
Action Learning Exercises
Training Tools
Group work
PowerPoint Presentations
Moderation and visualisation tools
Trainers Notes
Annexure 1: Example for Organizational Scheme Modules 1 – 6
---
Bibliographic information
Walther, D. (2015). Introducing city sanitation plan: Trainer's manual. Support to National Urban Sanitation Policy - II, Deutsche Gesellschaft für Internationale Zusammenarbeit (GIZ) GmbH
---
Download
---
---