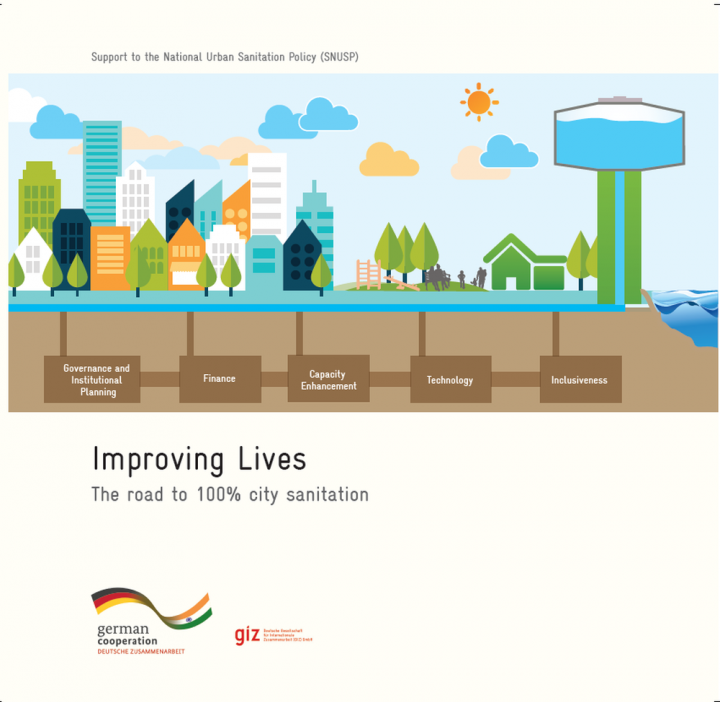 Published in: 2015
Pages: 60
Publisher:
Deutsche Gesellschaft für Internationale Zusammenarbeit (GIZ) GmbH, Germany
Author:
Dube, R.
This impact brochure introduces the reader to the main objectives and interventions of the project and highlights hands-on experiences from the ground. The main focus of this brochure lies on showing the impact of the project SNUSP on people living in cities, institutional processes such as sanitation planning and policy making at national, state and city level.

Finally it provides insights on the next steps MoUD and GIZ are jointly taking for building on achievements of the project and taking the sanitation agenda for Indian cities ahead. Sanitation has now gained a new political momentum becoming one of the main priorities of the new Indian Government supported by the recently launched 'Swachh Bharat Abhiyan'(Clean India Mission). We are excited about these recent developments and will support the Government of India in implementing the National Urban Sanitation Policy and in contributing to achieving healthy and liveable cities for the benefit of all urban citizens.
Bibliographic information
Dube, R. (2015). Improving lives - The road to 100% city sanitation. Deutsche Gesellschaft für Internationale Zusammenarbeit (GIZ) GmbH, Germany
Download
We got more than just a new look!
Welcome to the new website of susana.org
On 1 September we relaunched our website, using a new menu concept to improve the user experience. However, some functions are not working yet but we are working on those now. If you have any comments or suggestions please post them here on the SuSanA discussion forum. Thank you.
---