Financing sanitation for low-income urban communities
Lessons from CCODE and the Federation in Malawi
---
Published in: 2016
Pages: 36
Publisher:
International Institute for Environment and Development (IIED), London, United Kingdom
Author:
Hunga, W.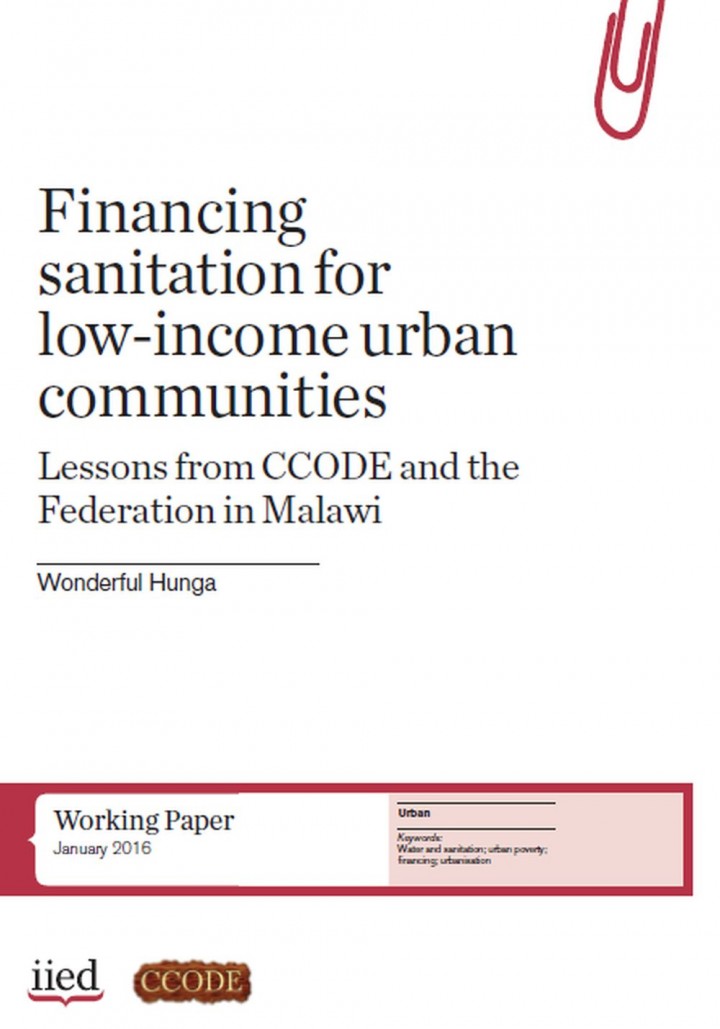 Published in: 2016
Pages: 36
Publisher:
International Institute for Environment and Development (IIED), London, United Kingdom
Author:
Hunga, W.
---
Financing sanitation for low-income urban communities
Lessons from CCODE and the Federation in Malawi
Like many other countries in the Global South, Malawi has failed to meet Millennium Development Goal (MDG) targets to improve access to sanitation. It has been estimated that only 25 percent of the country's population has gained Access to improved sanitation since 1990 and access to it is a meagre 41 per cent, according to the latest Joint Monitoring Programme (JMP) Report (2015). By utilising social capital and promoting ecological sanitation, CODE (an SDI affiliate), has enabled thousands of urban poor households, who could not afford better toilets, to live a dignified life. This study shows that the CCODE model could do this for most of Malawi's urban poor.
---
Bibliographic information
Hunga, W. (2016). Financing sanitation for low-income urban communities - Lessons from CCODE and the Federation in Malawi. International Institute for Environment and Development (IIED), London, United Kingdom
---
Download
---
---