Association of safe disposal of child feces and reported diarrhea in Indonesia
Need for stronger focus on a neglected risk
---
Published in: 2016
Pages: 13
Publisher:
International Journal of Environmental Research and Public Health, 13(3)
Author:
Cronin, A. A. et al.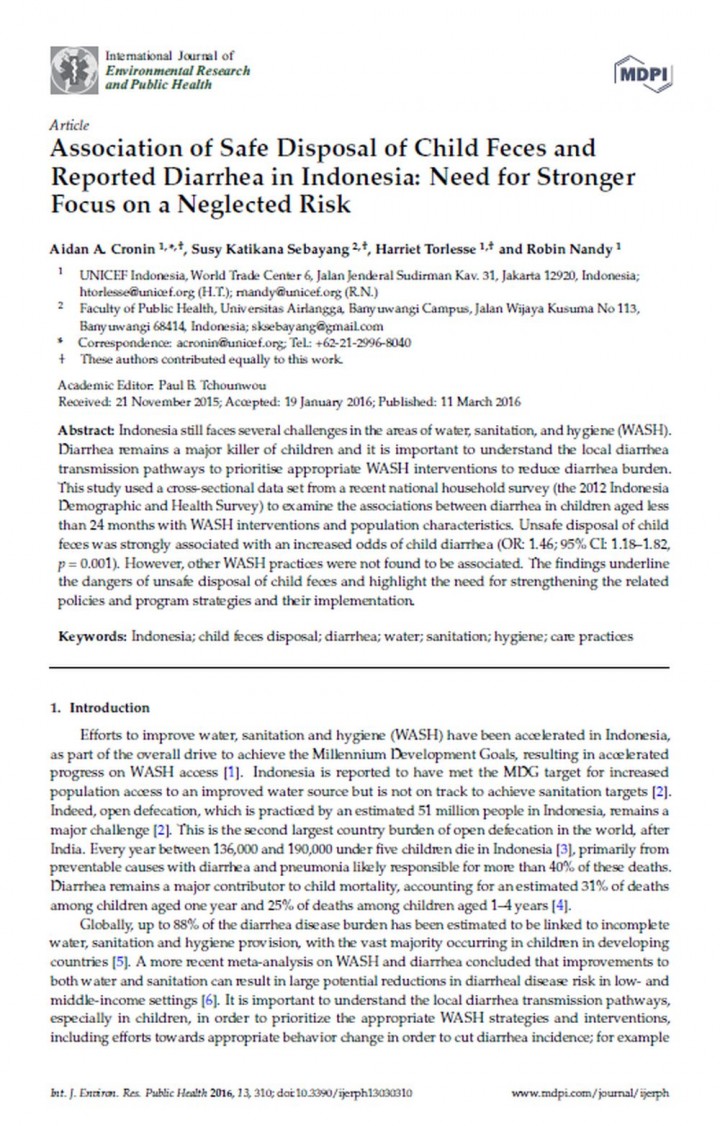 Published in: 2016
Pages: 13
Publisher:
International Journal of Environmental Research and Public Health, 13(3)
Author:
Cronin, A. A. et al.
---
Association of safe disposal of child feces and reported diarrhea in Indonesia
Need for stronger focus on a neglected risk
Indonesia still faces several challenges in the areas of water, sanitation, and hygiene (WASH). Diarrhea remains a major killer of children and it is important to understand the local diarrhea transmission pathways to prioritise appropriate WASH interventions to reduce diarrhea burden. This study used a cross-sectional data set from a recent national household survey (the 2012 Indonesia Demographic and Health Survey) to examine the associations between diarrhea in children aged less than 24 months with WASH interventions and population characteristics. Unsafe disposal of child feces was strongly associated with an increased odds of child diarrhea (OR: 1.46; 95% CI: 1.18–1.82, p = 0.001). However, other WASH practices were not found to be associated. The findings underline the dangers of unsafe disposal of child feces and highlight the need for strengthening the related policies and program strategies and their implementation.
---
Bibliographic information
Cronin, A. A. et al. (2016). Association of safe disposal of child feces and reported diarrhea in Indonesia - Need for stronger focus on a neglected risk. International Journal of Environmental Research and Public Health, 13(3)
---
Download
---
---