Gestion des déchets solides et assainissement de base Lokossa, département du Mono, Bénin (in French)
Case study of sustainable sanitation projects: Combined solid waste management and basic sanitation in Lokossa, Mono region, Benin
---
Published in: 2014
Pages: 9
Publisher:
Sustainable Sanitation Alliance (SuSanA), Germany
Author:
Dubois, A.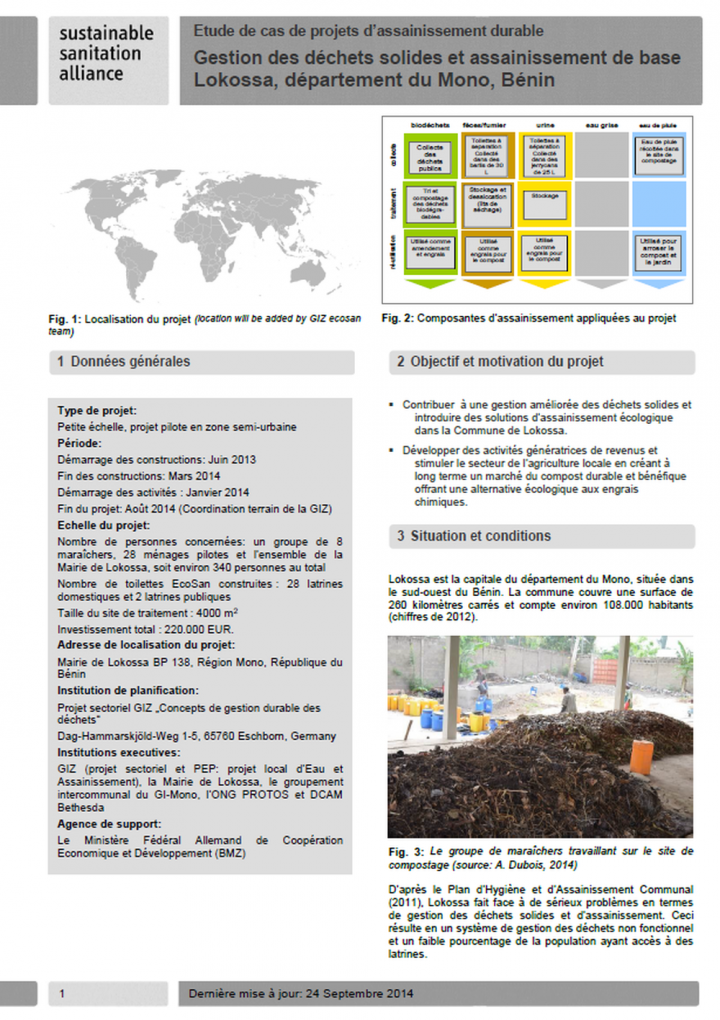 Published in: 2014
Pages: 9
Publisher:
Sustainable Sanitation Alliance (SuSanA), Germany
Author:
Dubois, A.
---
Gestion des déchets solides et assainissement de base Lokossa, département du Mono, Bénin (in French)
Case study of sustainable sanitation projects: Combined solid waste management and basic sanitation in Lokossa, Mono region, Benin
Type de projet: Petite échelle, projet pilote en zone semi-urbaine
Période: Démarrage des constructions: Juin 2013
Fin des constructions: Mars 2014
Démarrage des activités : Janvier 2014
Fin du projet: Août 2014 (Coordination terrain de la GIZ)

Objectif et motivation du projet:
-Contribuer à une gestion améliorée des déchets solides et introduire des solutions d'assainissement écologique dans la Commune de Lokossa.
- Développer des activités génératrices de revenus et stimuler le secteur de l'agriculture locale en créant à long terme un marché du compost durable et bénéfique offrant une alternative écologique aux engrais chimiques.
---
Bibliographic information
Dubois, A. (2014). Gestion des déchets solides et assainissement de base Lokossa, département du Mono, Bénin (in French) - Case study of sustainable sanitation projects: Combined solid waste management and basic sanitation in Lokossa, Mono region, Benin. Sustainable Sanitation Alliance (SuSanA), Germany
---
Information on external sites
---
Download
---
---