Using the Water Kiosk to Increase Access to Water for the Urban Poor in Kenya

---
Published in: 2015
Pages: 23
Publisher:
Global Delivery Initiative
Author:
Werchota, R., Nordmann, D.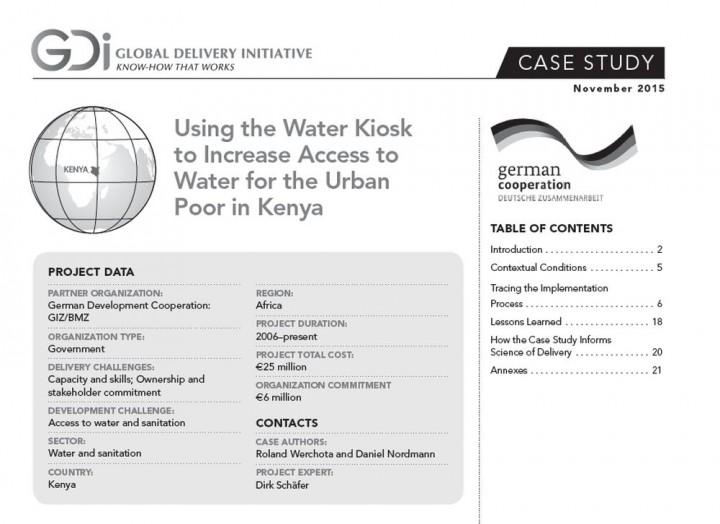 Published in: 2015
Pages: 23
Publisher:
Global Delivery Initiative
Author:
Werchota, R., Nordmann, D.
---
Using the Water Kiosk to Increase Access to Water for the Urban Poor in Kenya

---
Content - Summary
Development Problem:
Kenya needed to expand access to water and sanitation services to urban low-income areas consistently and
efficiently on a countrywide scale.

Program Solution:
Kenya established a basket-funding mechanism through the Water Services Trust Fund to encourage investment by utilities in lastmile infrastructure using low-cost technologies, including water kiosks, yard taps, and sanitation facilities.

Program Results:
Pilot programs for water kiosks showed that shared facilities were accepted and welcomed by consumers. After scaling up, nearly 1.8 million people have gained fi rst-time access to safe and aff ordable water services, and up to 429,000 people are scheduled to receive sanitation services by the end of 2016.
---
Bibliographic information
Werchota, R., Nordmann, D. (2015). Using the Water Kiosk to Increase Access to Water for the Urban Poor in Kenya. Global Delivery Initiative
---
Download
---
---
---