Hydrothermale Carbonisierung organischer Reststoffe - Machbarkeitsbetrachtung der technischen Realisierungsmöglichkeiten in der Region Kagera/Tansania (in German)
Hydrothermal carbonization of organic waste - Feasibility analysis of realisation in the region of Kagera/Tanzania
---
Published in: 2010
Publisher:
Diplomarbeit, Technical University, Berlin, Germany
Author:
Krause, A.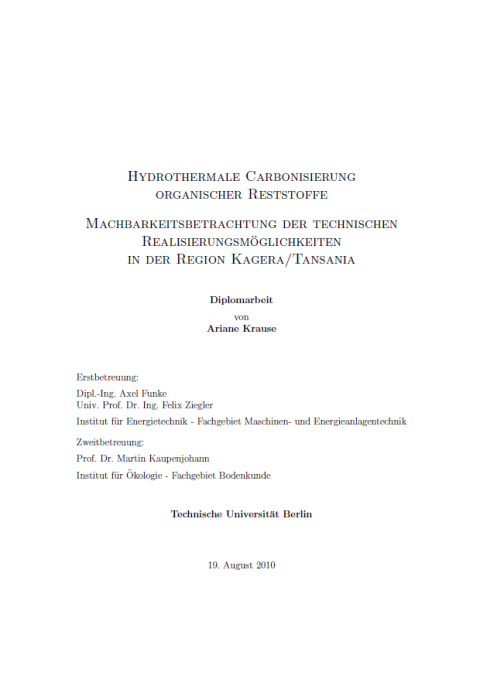 Published in: 2010
Publisher:
Diplomarbeit, Technical University, Berlin, Germany
Author:
Krause, A.
---
Hydrothermale Carbonisierung organischer Reststoffe - Machbarkeitsbetrachtung der technischen Realisierungsmöglichkeiten in der Region Kagera/Tansania (in German)
Hydrothermal carbonization of organic waste - Feasibility analysis of realisation in the region of Kagera/Tanzania
---
Content - Summary
Der Zugang zu Energie bestimmt maßgeblich die landwirtschaftliche Produktionsfähigkeit, die Versorgung mit sauberem Trinkwasser, den Zugang zu Information und Kommunikation und die Eingliederung in die Weltwirtschaft und ist somit ein wesentlicher Faktor fur die Entwicklung Afrikas. Dabei ist eine große Herausforderung, Zugang zu Energie und ökologische Nachhaltigkeit in Einklang zu bringen. Eine Möglichkeit der Energieerzeugung ist die nachhaltige Produktion von Biogas über den Prozess der anaeroben Vergärung von Resten aus der landwirtschaftlichen Nahrungsmittelproduktion. Neben der energetischen Nutzung der Erntereste ist auch deren stoiche Nutzung in der Landwirtschaft von großer Bedeutung. Um die enthaltenen Nahrstoffe wieder in den landwirtschaftlichen Kreislauf zu bringen, ist eine Rückführung der Erntereste erforderlich. Es besteht nun die Möglichkeit, die vergarten Erntereste vor der Ausbringung auf die Felder thermo-chemisch zu behandeln, sodass einige Eigenschaften des Materials verändert werden, was die erwünschte positive Wirkung im Boden verstärkt. Dabei handelt es sich um die Möglichkeit der Umwandlung von Biomasse zu Biokohle, die dann nach dem Prinzip der Terra Preta (d.h. die Herstellung von fruchtbaren Boden mit hohem Kohlenstoffanteil, die von den Inkas in Südamerika praktiziert wurde) als Bodenverbesserer eingesetzt werden kann. Dieser Ansatz ist zunächst überzeugend, da er eine Möglichkeit bieten kann, sowohl die Energiearmut als auch den Hunger zu verringern.
---
Bibliographic information
Krause, A. (2010). Hydrothermale Carbonisierung organischer Reststoffe - Machbarkeitsbetrachtung der technischen Realisierungsmöglichkeiten in der Region Kagera/Tansania (in German) - Hydrothermal carbonization of organic waste - Feasibility analysis of realisation in the region of Kagera/Tanzania. Diplomarbeit, Technical University, Berlin, Germany
---
Download
---
---