Vergleichende Betrachtung der Effektivität und Effizienz von konventioneller Abwasserbehandlung (mehrstufige Kläranlage) gegenüber neuartigen, kreislauforientierten Sanitärsystemen an ausgewählten Bespielen in Syrien (in German)
Comparative analysis of the effectiveness and efficiency of conventional wastewater treatment (with several stages) to innovative, reuse-oriented sanitation systems with selected examples in Syria
---
Published in: 2006
Publisher:
Master Thesis, Bauhaus-Universität Weimar, Germany
Author:
Zimmermann, G.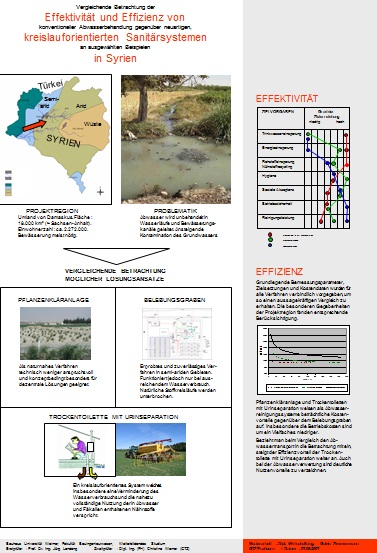 Published in: 2006
Publisher:
Master Thesis, Bauhaus-Universität Weimar, Germany
Author:
Zimmermann, G.
---
Vergleichende Betrachtung der Effektivität und Effizienz von konventioneller Abwasserbehandlung (mehrstufige Kläranlage) gegenüber neuartigen, kreislauforientierten Sanitärsystemen an ausgewählten Bespielen in Syrien (in German)
Comparative analysis of the effectiveness and efficiency of conventional wastewater treatment (with several stages) to innovative, reuse-oriented sanitation systems with selected examples in Syria
---
Content - Summary
Die derzeitige Situation der Abwasserbehandlung in der Arabischen Republik Syrien ist sehr unbefriedigend. Wesentliche Anforderungen an ein Entsorgungssystem werden nicht erfüllt, es ergeben sich ernste Gefahren für die Gesundheit der Bevölkerung. Aus diesem Grund sind mit ausländischer finanzieller Hilfe Vorhaben geplant, um die Situation zu verbessern.

Die Investitionsentscheidungen stehen derzeit an. Bevorzugt werden zurzeit konventionelle, technisch anspruchsvolle Abwassersysteme nach europäischen Standards (zentrale Abwasserentsorgung über die Schwemmkanalisation).Die Vorteile der konventionellen Abwassersysteme liegen in deren erwiesenermaßen hohen Sicherheit und Zuverlässigkeit und in ihrem hohen Nutzungskomfort. Hingegen haben diese Systeme auch einige Nachteile, welche insbesondere in wasserarmen Gebieten wie Syrien in Betracht zu ziehen sind:

· Konventionelle Abwassersysteme funktionieren nur bei ausreichendem Wasserverbrauch. Insgesamt gehen sie verschwenderisch mit Wasser um. Kostbares Trinkwasser wird für niederwertige Zwecke eingesetzt (z.B. zur Toilettenspülung). Wasser wird verschmutzt und muss aufwendig wieder gereinigt werden.

· Durch die Einleitung der Abwässer in die Vorfluter werden natürliche Stoffkreisläufe unterbrochen, Rohstoffe (wie z.B. Phosphor, Kalium etc.) gehen für geologische Zeiträume verloren. Hohe Energiemengen müssen aufgewendet werden um Ersatzgüter zu schaffen (wie im Falle von Stickstoff).

· Hohe Kosten durch Orts- und Transportkanäle entstehen.

An diesen Nachteilen konventioneller Abwassersysteme setzen Kreislauforientierte Sanitäroder Abwasserversorgungskonzepte an. Deren Ziele sind:

· Eindämmung der Verschwendung von Wasser
· Schließen von Stoffkreisläufen
· Errichtung von kostengünstigen, dezentralen Anlagen zur Abwasserbehandlung

Der Entscheidungsprozess ist in den zuständigen Institutionen noch nicht abgeschlossen. Neuartige Sanitär- und Abwasserkonzepte können noch in die Diskussion eingebracht werden. Es erscheint daher sinnvoll, die verschiedenen Konzepte der Abwasserentsorgung nach einheitlichen Kriterien zu bewerten und die Ergebnisse zu vergleichen.

Nach [Rudolph (2001)] geht es bei der Entwicklung einer Abwasserversorgung für die Zukunft weniger um Detailverbessrung an Systemkomponenten, als um die Demonstration der Wirtschaftlichkeit und Betriebssicherheit von Konzepten, welche den langfristig orientierten, ökologischen Notwendigkeiten genügen.
---
Bibliographic information
Zimmermann, G. (2006). Vergleichende Betrachtung der Effektivität und Effizienz von konventioneller Abwasserbehandlung (mehrstufige Kläranlage) gegenüber neuartigen, kreislauforientierten Sanitärsystemen an ausgewählten Bespielen in Syrien (in German) - Comparative analysis of the effectiveness and efficiency of conventional wastewater treatment (with several stages) to innovative, reuse-oriented sanitation systems with selected examples in Syria. Master Thesis, Bauhaus-Universität Weimar, Germany
---
Download
---
---