Anthropogenic plant nutrients as fertiliser

---
Published in: 2008
Publisher:
PhD thesis, Humboldt-Universität, Landwirtschaftlich-Gärtnerische Fakultät, Berlin, Germany
Author:
Muskolus, A.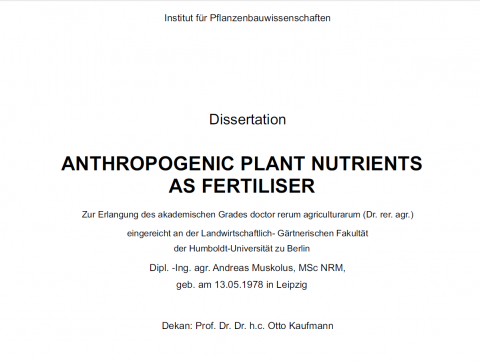 Published in: 2008
Publisher:
PhD thesis, Humboldt-Universität, Landwirtschaftlich-Gärtnerische Fakultät, Berlin, Germany
Author:
Muskolus, A.
---
Anthropogenic plant nutrients as fertiliser

---
Content - Summary
Novel segregating sanitation techniques can collect separated urine and faeces in a form which enables their use as fertiliser. In the presented thesis selected aspects concerning the use of anthropogenic plant nutrients relevant to farming were investigated. A consumer acceptance study showed a general high public willingness to accept urine as fertiliser. The reaction of farmers was mainly reserved as a result of the present legal regulations in Germany. Within the context of sustainable agriculture the use of human urine as fertiliser can be recommended. Further research is necessary, especially concerning any effects resulting from residues of pharmaceutical substances contained in human excreta.
---
Bibliographic information
Muskolus, A. (2008). Anthropogenic plant nutrients as fertiliser. PhD thesis, Humboldt-Universität, Landwirtschaftlich-Gärtnerische Fakultät, Berlin, Germany
---
Download
---
---