We can do it: Teaching school girls how to build toilets

---
Published in: 2012
Publisher:
Aquamor, Harare, Zimbabwe
Author:
Kanyemba, A.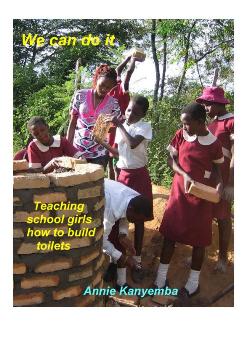 Published in: 2012
Publisher:
Aquamor, Harare, Zimbabwe
Author:
Kanyemba, A.
---
We can do it: Teaching school girls how to build toilets

---
Content - Summary
This manual brings some techniques used to teach people who are not artisans how to build simple toilets that are suitable for home use and even for the school. The type of toilet used in Zimbabwe is called the Blair VIP (Blair Ventilated Improved Pit). The method described in this booklet shows how the girls can build the spiral shaped toilet house (superstructure) in bricks. The girls are taught how to make a slab, make the house and also how to make a roof. Learning how to build in bricks is useful and the toilet which is built reminds the girls that they too can do anything a man or a boy can do. They enjoy this building and are very proud of their achievement.
---
Bibliographic information
Kanyemba, A. (2012). We can do it: Teaching school girls how to build toilets. Aquamor, Harare, Zimbabwe
---
Download
---
---