Community-Led Urban environmental sanitation planning: CLUES
Complete guidelines for decision-makers with 30 tools
---
Published in: 2011
Publisher:
Swiss Federal Institute of Aquatic Science and Technology (Eawag), Dübendorf, Switzerland, WSSCC, Geneva, Switzerland and UN-HABITAT, Nairobi, Kenya
Author:
Luethi, C., Morel, A., Tilley, E., Ulrich, L.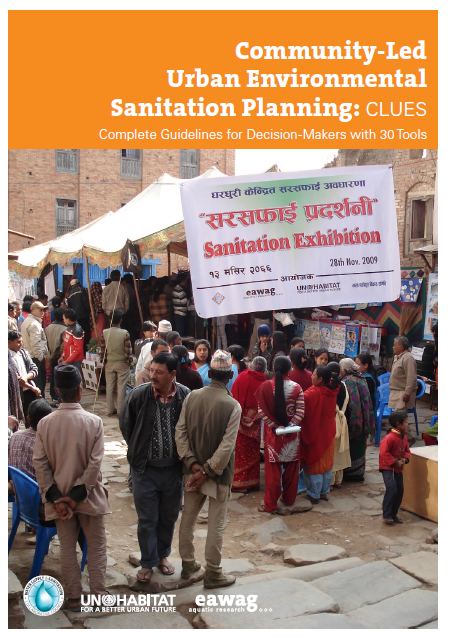 Published in: 2011
Publisher:
Swiss Federal Institute of Aquatic Science and Technology (Eawag), Dübendorf, Switzerland, WSSCC, Geneva, Switzerland and UN-HABITAT, Nairobi, Kenya
Author:
Luethi, C., Morel, A., Tilley, E., Ulrich, L.
---
Community-Led Urban environmental sanitation planning: CLUES
Complete guidelines for decision-makers with 30 tools
---
Content - Summary
The Community-Led Urban Environmental Sanitation (CLUES) approach presents comprehensive guidelines for the planning and implementation of environmental sanitation infrastructure and services in disenfranchised urban and peri-urban communities. The planning approach builds on a framework which balances the needs of people with those of the environment to support human dignity and a healthy life. CLUES is a multi-sector and multi-actor approach accounting for water supply, sanitation, solid waste management and storm drainage. It emphasises the participation of all stakeholders from an early stage in the planning process.
---
Bibliographic information
Luethi, C., Morel, A., Tilley, E., Ulrich, L. (2011). Community-Led Urban environmental sanitation planning: CLUES - Complete guidelines for decision-makers with 30 tools. Swiss Federal Institute of Aquatic Science and Technology (Eawag), Dübendorf, Switzerland, WSSCC, Geneva, Switzerland and UN-HABITAT, Nairobi, Kenya
---
Download
---
---