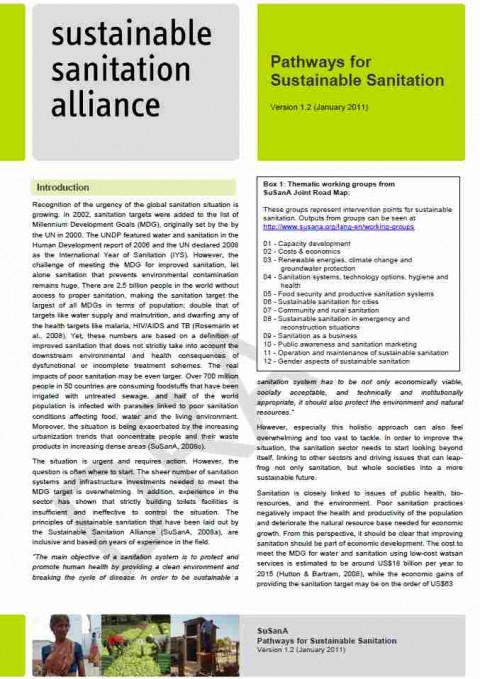 Published in: 2011
Publisher:
Sustainable Sanitation Alliance (SuSanA)
Author:
SuSanA
Content - Summary
In line with the overall SuSanA objectives, this document should contribute to the work surrounding the MDGs by outlining a number of pathways, or stepping-stones, to achieve more sustainable practices in sanitation. It draws on the work of SuSanA's thematic working groups and attempts to act as a bridge between the principles and theory of sustainable sanitation (Vision Document) and eventual recommendations for concrete action plans.
Bibliographic information
SuSanA (2011). Pathways for sustainable sanitation - Version 1.2 (January 2011). Sustainable Sanitation Alliance (SuSanA)
Download
We got more than just a new look!
Welcome to the new website of susana.org
On 1 September we relaunched our website, using a new menu concept to improve the user experience. However, some functions are not working yet but we are working on those now. If you have any comments or suggestions please post them here on the SuSanA discussion forum. Thank you.
---