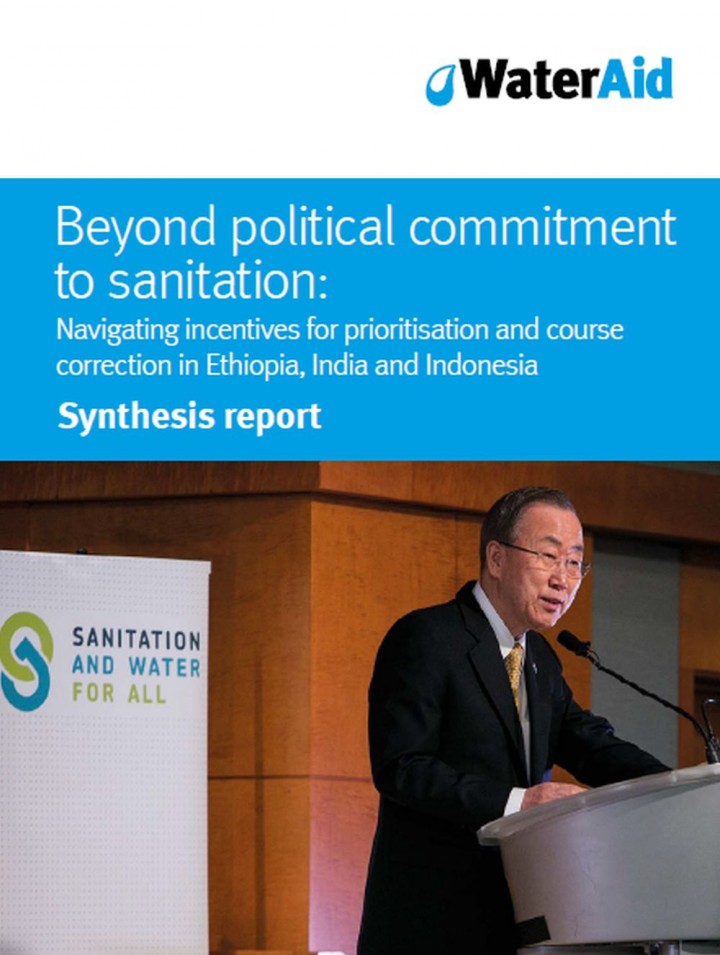 Published in: 2016
Pages: 36
Publisher:
WaterAid
Author:
Mason, N., Matoso, M., Hueso, A.,
---
951 Views
13 Downloads
A growing number of countries are showing commitment on sanitation at the highest levels of government. However, to turn this commitment into action, it is necessary to permeate the prioritisation of sanitation throughout the government machinery and to ensure course correction, adapting policy to the blockages and emerging implementation challenges. This research explores these processes in three countries – Ethiopia, India, and Indonesia – paying special attention to the incentives at play.

The study found that values of modernity, along with political and professional return, galvanise prioritisation of sanitation throughout government levels. However, power relations between the institutions involved can undermine prioritisation. Incentives for prioritisation do not always have the same positive effect on course correction, which is shaped by specific incentives, from sharing information to analysing and acting upon it.

Two key recommendations for decision makers emerged. First, to cascade political prioritisation by fostering buy-in through alignment with the world views and personal aspirations of those involved in the sanitation drive. Second, to invest in course correction to address bottlenecks, by ensuring reliable verification, developing effective review mechanisms, and nurturing a culture of learning.
Bibliographic information
Mason, N., Matoso, M., Hueso, A., (2016). Beyond political commitment to sanitation - Navigating incentives for prioritisation and course correction in Ethiopia, India and Indonesia. WaterAid
Information on external sites
Download directly from WaterAid
Download