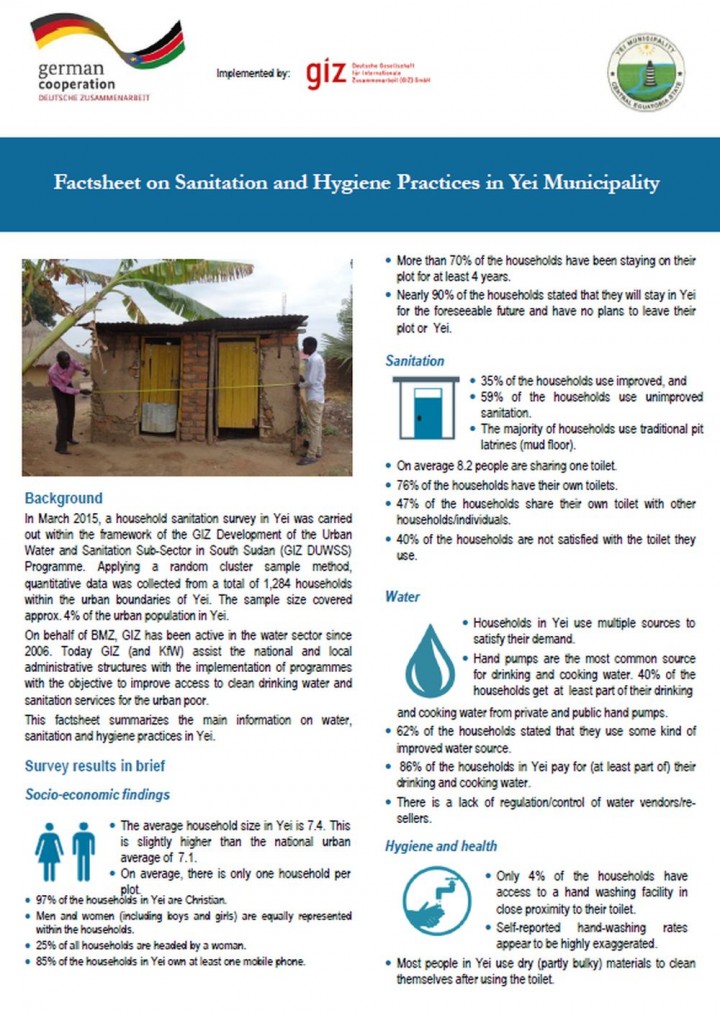 Published in: 2015
Pages: 4
Publisher:
GIZ
Author:
Kilombe, S. T., Taligi, A. S.
---
1343 Views
17 Downloads
In March 2015, a household sanitation survey in Yei was carried out within the framework of the GIZ Development of the Urban Water and Sanitation Sub-Sector in South Sudan (GIZ DUWSS) Programme. Applying a random cluster sample method, quantitative data was collected from a total of 1,284 households within the urban boundaries of Yei. The sample size covered approx. 4% of the urban population in Yei.

On behalf of BMZ, GIZ has been active in the water sector since 2006. Today GIZ (and KfW) assist the national and local administrative structures with the implementation of programmes with the objective to improve access to clean drinking water and sanitation services for the urban poor.

This factsheet summarizes the main information on water, sanitation and hygiene practices in Yei.
Bibliographic information
Kilombe, S. T., Taligi, A. S. (2015). Factsheet on Sanitation and Hygiene Practices in Yei Municipality. GIZ
Download