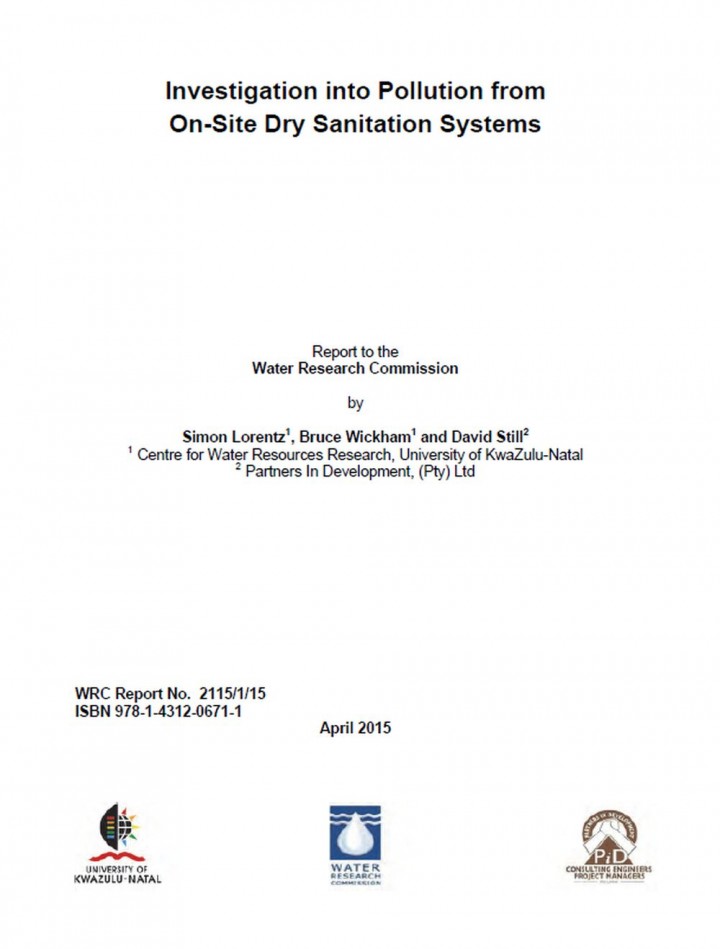 Published in: 2015
Pages: 67
Publisher:
University of KwaZuIu-Natal, Partners in Development
Author:
Lorentz, S., Wickham, B., Still, D.
---
1539 Views
17 Downloads
Content - Summary
The impact of onsite sanitation on water resources has been the subject of much study with regard to conventional septic tanks and soak-aways. However, research of impacts from rural and peri-urban communities using pit latrines, particularly in underdeveloped countries, has been unconvincing. With the increase in the extension of sanitation services provided by the South African Government anticipated to result in the establishment of some 6 million onsite
dry sanitation systems, there is a need to assess the overall health and pollution impacts of these systems. The scale of application of these systems, in concert with highly variable climatic conditions and a range of geological formations and soilscapes, warrant a scientific assessment of the pollution potential of dry sanitation systems so that they can be properly sited, designed, installed, monitored and maintained.

The objectives of this study are therefore to:
• Develop an understanding of the conditions and processes that may lead to migrationof pollutants from onsite dry sanitation systems so that guidelines to minimise the impact of onsite sanitation to the water resources in South Africa may be developed;
• Identify techniques, methods and models used in evaluating groundwater pollution from onsite sanitation; and to
• Derive the necessary knowledge for input to best practice guidelines for monitoring
and minimising the impacts from onsite dry sanitation.

The study comprises a comprehensive overview of current research and systematic observation of selected sites, comprising a range of geologies and sanitation types in order to derive an understanding of the effluent migration sources, pathways and mechanisms to inform the development of best practice guidelines.
Bibliographic information
Lorentz, S., Wickham, B., Still, D. (2015). Investigation into Pollution from On-Site Dry Sanitation Systems. University of KwaZuIu-Natal, Partners in Development
Download