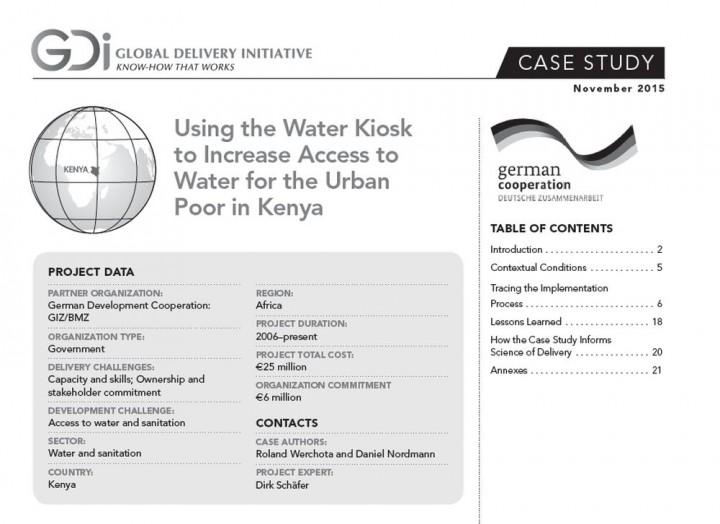 Published in: 2015
Pages: 23
Publisher:
Global Delivery Initiative
Author:
Werchota, R., Nordmann, D.
---
1466 Views
13 Downloads
Content - Summary
Development Problem:
Kenya needed to expand access to water and sanitation services to urban low-income areas consistently and
efficiently on a countrywide scale.

Program Solution:
Kenya established a basket-funding mechanism through the Water Services Trust Fund to encourage investment by utilities in lastmile infrastructure using low-cost technologies, including water kiosks, yard taps, and sanitation facilities.

Program Results:
Pilot programs for water kiosks showed that shared facilities were accepted and welcomed by consumers. After scaling up, nearly 1.8 million people have gained fi rst-time access to safe and aff ordable water services, and up to 429,000 people are scheduled to receive sanitation services by the end of 2016.
Bibliographic information
Werchota, R., Nordmann, D. (2015). Using the Water Kiosk to Increase Access to Water for the Urban Poor in Kenya. Global Delivery Initiative
Download