14.06.2017 - 15.06.2017
3rd annual Aid & Development Asia Summit
MICC2, Nay Pyi Tam, Maynmar
The 3rd annual Aid & Development Asia Summit will take place on 14-15 June 2017 in Nay Pyi Taw, the capital city of Myanmar (Burma).

Gathering 250+ humanitarian and development professionals, The Aid & Development Asia Summit will bring together regional and global expertise to discuss innovations and partnerships for aid and development programmes in Asia, with a particular focus on Myanmar.

The Summit will offer an unparalleled opportunity for knowledge exchange, cross-sector engagement and collaboration between UN, government agencies, local and international NGOs, Red Cross, development banks, investors, associations, media and the private sector.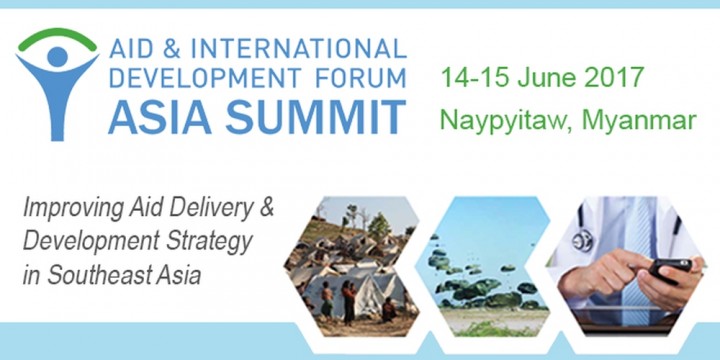 ---
Further Description / Program
Be part of this year's Aid & Development Asia Summit and:

• Compare your approaches with peers and build long lasting partnerships and alliances with UN and government agencies, NGOs, donors, and the private sector
• Hear latest policy and project updates and influence the debate on improving humanitarian aid operations and infrastructure resilience – especially in Myanmar
• Exchange best practice and discover innovations in health & WASH, agriculture and infrastructure resilience, humanitarian logistics, use of (mobile) technology for development programmes
• Gain first hand insights from development banks, donors and government agencies on their financing priorities and funding guidelines

Agenda Topics:

• Improving health resilience & addressing current health threats (dengue, Zika, malaria, TB, HIV)
• Ensuring access to safe drinking water and sanitation
• Building resilient infrastructure to better support SDGs
• Improving lives and livelihoods and the safety of displaced people
• Utilising mobile technology to better reach and engage communities
• Improving connectivity, social networks and data exchange
• Financing of development and aid programmes in Myanmar
---
---
We got more than just a new look!
Welcome to the new website of susana.org
On 1 September we relaunched our website, using a new menu concept to improve the user experience. However, some functions are not working yet but we are working on those now. If you have any comments or suggestions please post them here on the SuSanA discussion forum. Thank you.
---