21.06.2016 - 22.06.2016
AIDF Asia Summit 2016
United Nations Conference Centre Bangkok, Thailand
The Summit will focus on enabling quicker and better disaster response, ensuring more effective aid delivery and community engagement, improving humanitarian operations and logistics, and innovations for regional health and WASH programmes.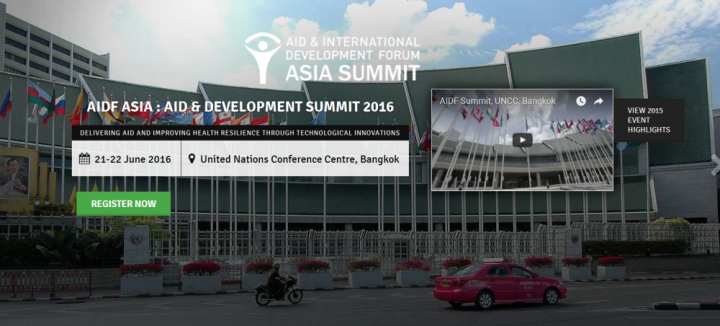 ---
Further Description / Program
Delivering aid and improving health resilience through collaboration and technological innovation

Following the success of last year's event, the AIDF Asia Summit 2016 once again will gather 250+ humanitarian and development professionals from all stakeholders, including regional governments, UN agencies, Red Cross, local and international NGOs, donors and investors and the private sector, to discuss how technological innovations improve aid and development work in South East Asia.

During the two-day Summit you will hear from 50+ exert speakers, discover new business opportunities, exchange ideas and influence the global debate on improving disaster relief and health resilience in South East Asia.

Register your participation now
---
---
We got more than just a new look!
Welcome to the new website of susana.org
On 1 September we relaunched our website, using a new menu concept to improve the user experience. However, some functions are not working yet but we are working on those now. If you have any comments or suggestions please post them here on the SuSanA discussion forum. Thank you.
---